Watch: Muddy Box Blinds and XOP Ambush Climber at 2017 ATA Show
Russ Chastain 01.13.17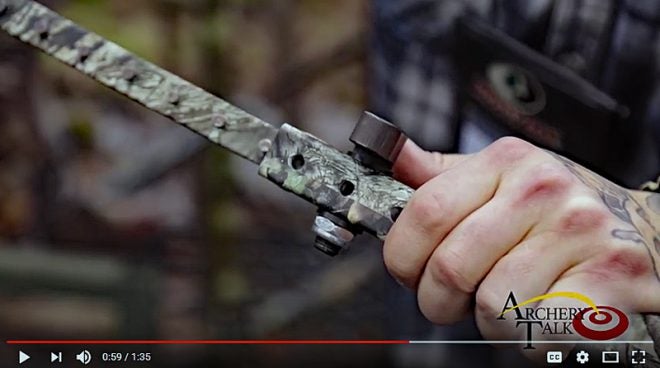 Our sister site ArcheryTalk.com has been checking out new hunting gear at the 2017 ATA Show. These videos take a look at a new Muddy Outdoors hunting stand/blind and a new climbing stand from XOP (Xtreme Outdoor Products).
The first video shows Muddy's new Gunner and Bull models.
The Gunner is an elevated model that would work well for hunting with a gun or crossbow–and it's insulated! And I gotta say, that would be welcome to this hunter, whether it's hot or cold weather. They say it has two inches of insulation, and that sounds sweet. Along with the marine-grade carpet lining, it should also help dampen noise. There's not much worse than moving your foot to stretch or dropping something and making a loud noise that tells every deer around that someone is definitely in that permanent stand.
It has a sure-nuff entry door; this is more like a nice little shed than a hunting blind.
They say they have a silent window system, with glass windows that you can open with one hand without making any noise. Glass is nice because if it fogs, you can wipe it off without scratching it up.
The Bull is a larger model, which can handle two people. It has five vertical windows for bow hunters and three horizontal windows for guns or crossbows.
For the hunter who likes to move around and prefers not to hunt in a tiny house, it's tough to beat the portability of a good climbing stand. The XOP Ambush is a "sit and stand" type of climber, which is "essentially a redesign of [their] standard sit-and-climb, the Enforcer."
These climbers use a cam and band system to wrap around the tree, and they say they've redesigned that aspect of this stand. Having a band of steel wrapped around the tree sounds pretty good.
This model weighs in at a mere 17.5 pounds and will retail for $299.