Aimpoint Announces New Shotgun Sight: The Aimpoint Micro S-1
Russ Chastain 01.17.17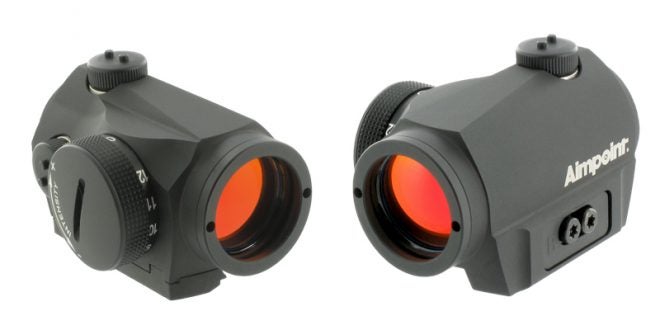 Today at the 2017 SHOT Show, I was surprised by something I saw at an Aimpoint press conference. Or at least, I was impressed by it.
My history with Aimpoint goes way back. I was a mere teen in the 1980s when my father got himself an Aimpoint sight and mounted it on his Ruger 44 magnum carbine, which was his all-time favorite hunting rifle.
The sight was great, and he loved it except that when the batteries ran low the point of impact would not necessarily coincide with the red dot. So he eventually had to move on to a low-powered scope.
That was more than thirty years ago, and Aimpoint has come a long way since those early days. What hasn't changed is the company's roots. The company that developed the original red dot scope for hunters is still operated by hunters today, so it should come as no surprise that they've just announced the Aimpoint Micro S1 specifically designed for shotguns.
The new Aimpoint® Micro S-1 was designed specifically for use on shotguns.  The innovative carbon fiber reinforced mounting system positions the optic on the lowest possible optical axis – without adding unnecessary weight. The Micro S-1 sight attaches directly to the shotgun at any point along the ventilated rib, and interchangeable adapter plates are included to accommodate most popular shotgun rib sizes.
When I hunt with a rifle these days, I almost always use a non-electronic magnifying optical scope. But there's something about a red dot scope that entices and attracts me, especially when it comes to shotgunning for turkeys.
But they say this scope isn't just for turkey hunting, and they aim to prove that it will help improve shotgun shooters' skills on the clay range or in the field shooting birds or hunting deer.
As the name suggests, the Micro S-1 is small and lightweight. It will reportedly attach to the rib of a shotgun via a clamp and shim system that isn't quite fine-tuned yet.
The Micro S-1 greatly enhances hit percentage for waterfowl and upland bird hunters, as well as on the sporting clays course, and provides a compact, low-profile optic for turkey and deer shotgun hunters.  The big, bright 6 MOA red dot provides an optimal combination of target acquisition speed and visibility.  This sight incorporates many of the design advances Aimpoint has learned over 20 years of service with the U.S. military, so reliability in the field is unmatched.
Here are the specs:
Art.No: 200369
Operating principle: Reflex collimator sight with LED
Optical magnification: 1x
Aiming dot size: 6 MOA
NVD compatible: No
Optical coating: Anti-reflex
Clear aperture: 18 mm
Eye relief: Unlimited
Battery type: 3V Lithium battery, type CR2032
Power intensity: 12 pos. 1 Off, 12 daylight of which 1 Extra Bright
Length sight only: 63 mm (2 15/32")
Height sight only: 41 mm (1 5/8")
Weight sight only (incl battery): Approximately 100 g* (3.53 oz)
Housing material: High strength aluminum; integrated mount: Carbon fiber reinforced polymer
Surface treatment: Anodized, semi matte
Height of optical axis – sight and mount: 39 mm (1 9/16″) over top surface of Picatinny Rail
Height of optical axis – sight, mount and standard spacer: 14 mm (9/16")
Adjustment: Range ±1 m at 100 meters (±1 yds at 100 yds) in windage and elevation, 1 click = 13 mm at 100 meters = 10 mm at 80 meters = 7/16″ at 100 yds
Immersion, static: Submersible to 5 m (15 ft.)
Pretty cool! I'll try to get my hands on one to try out and report back to y'all on it.