Husqvarna is known world-wide for their high quality chainsaws. I had always used a Stihl, so in December 2013 I added a Husqvarna 440 to my collection.
I was looking for a chainsaw that could be used to take down small trees and for taking the limbs off large trees. Just something that was easier to handle than a Stihl with a 20 inch bar.
With a price point of $299 (as of January 2017), the 440 is at the bottom of the Husqvarna price range.
Bigger is Not Always Better
When it comes to chainsaws, bigger is not always better. Using the wrong saw for a given job can be dangerous.
Use an appropriate sized saw to cut down a tree. Then use a  smaller saw to get between the branches and cut them off the tree trunk. Using a large saw in a confined space is a recipe for disaster.
Husqvarna 440 Specs
Horsepower: 2.4
Fuel Mix Ratio: 50:1
Bar Length: 18 inches
Engine Displacement: 40.9 Cubic Centimeters
Experience
My Husqvarna 440 is a little over two years old. In that time I have cut sweet gum, hickory, pine, and oak with it.
While the saw has a bar length of 18 inches, from my experience you will not be able to cut anywhere near the full length of the bar. A few days ago I had to cut down a pen oak that was around ten inches in diameter. The 440 was probably at its maximum cut diameter with that oak tree.
I have cut hickory limbs that were around 10 inches diameter, and the 440 had problems with it.
Likes
I like that the chainsaw is easy to crank. Push the primer bulb around six times, postition the on/off/choke switch to the choke position or half-choke, pull a few times and the saw cranks.
The first Husqvarna 440 I bought stopped working within three weeks. I took it back to where I bought it and they replaced it. The replacement saw has worked perfectly for two years.
I like that you push the off switch down with your thumb. This is a natural movement, as compared to some chainsaws that the switch has to be moved upwards to turn off.
Dislikes
I dislike that the fuel and oil caps are made out of plastic. If they get too tight and you use a screwdriver to help open the cap, the plastic can crack.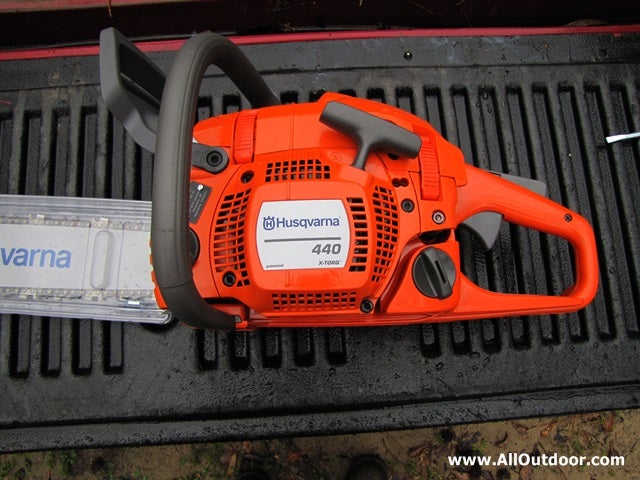 The hole to reach the chain adjustment screw needs to be a little larger.
Besides those two items, I have no other issues with this saw.
Overall
Sometimes you get what you pay for, and this is exactly the case with the Husqvarna 440 chainsaw. The 440 only has  2.4 horsepower, which is not very much. With a price of $299, 2.4 horsepower is nothing to complain about.
This is an excellent chainsaw for small projects around the house or farm.