Princeton Tec's All-American Helix Lanterns
Russ Chastain 01.17.17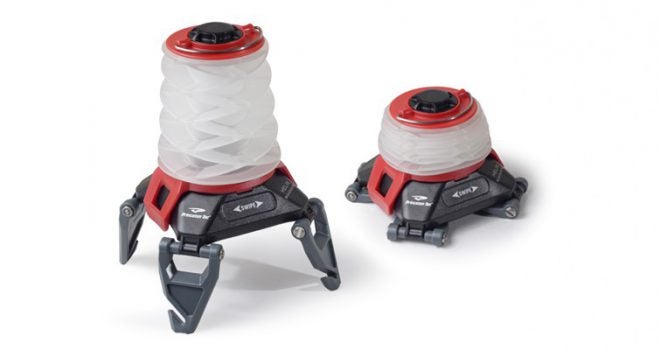 While doing my normal thing at the 2017 SHOT Show, which is to walk every aisle at least once, my tired feet took me by the Princeton Tec booth, where I spied some really interesting little lantern lights. So I stopped to check them out and had a nice chat with Princeton Tec marketing manager Caitie Caroleo.
The Helix lantern is an interesting creation from this all-American company. You essentially have a short, squat disk that composes the body of the thing. Four rugged-looking hook thingamabobs serve as easily-adjustable feet for leveling it to use as a lantern or for hanging it for use as an area light.
For brighter light, such as when hung overhead to serve as a room light in a tent, you can remove the "globe," which is a nifty flexible rubbery white thing. It serves to soften and distribute the light, and it can be collapsed for transporting the Helix.
They come in two sizes, the 4.7-inch-tall Backcountry and the 6.4-inch-tall Basecamp.
The Backcountry has a swipe control, so there are no buttons or knobs on the smaller model. The Basecamp features a knob for control, reminiscent of an old Coleman gasoline lantern.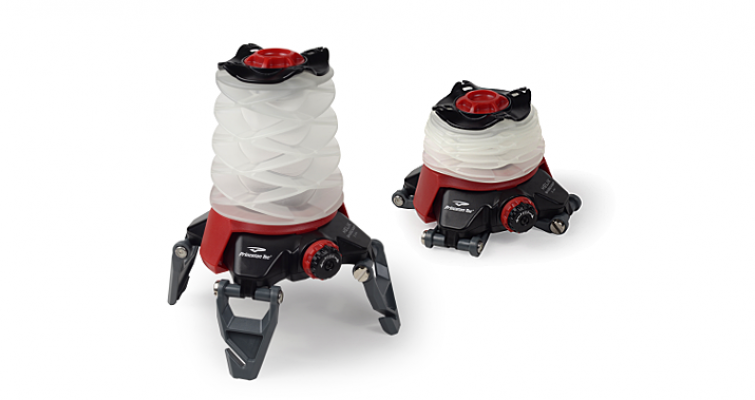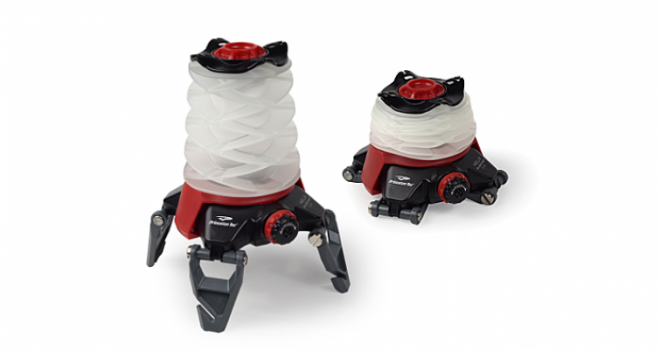 For 2017, Helix lanterns will be available in five models:
Backcountry
Power: 150 Lumens
Lamp: Maxbright White, Ultrabright Red
Max Burn Time (white, low): 24 Hours
Batteries: 3 AAA Alkaline (included)
Weight: 155 Grams
Water Resistant: IPX6
Backcountry Rechargeable
Power: 150 Lumens
Lamp: Maxbright White, Ultrabright Red
Max Burn Time (white, low): 18 Hours
Battery: Lithium rechargeable (built in)
Weight: 155 Grams
Water Resistant: IPX6
Basecamp
Power: 250 Lumens
Lamp: Maxbright White, Ultrabright Red
Max Burn Time (white, low): 30 Hours
Battery: 3 AA Alkaline (included)
Weight: 358 Grams
Water Resistant: IPX6
Basecamp Rechargeable
Power: 250 Lumens
Lamp: Maxbright White, Ultrabright Red
Max Burn Time (white, low): 18 Hours litium, 30 hours AA
Battery: Lithium rechargeable or 3 AA Alkaline for backup
Weight: 313 Grams
Water Resistant: IPX4
Basecamp Bluetooth
Power: 250 Lumens
Lamp: Maxbright White, Ultrabright Red
Max Burn Time (white, low): 18 Hours litium, 30 hours AA
Battery: Lithium rechargeable or 3 AA Alkaline for backup
Weight: 313 Grams
Water Resistant: IPX4
Bluetooth controlled from smart phone or tablet