The Estwing Hunter's Axe: For Dressing Game and More
Russ Chastain 01.18.17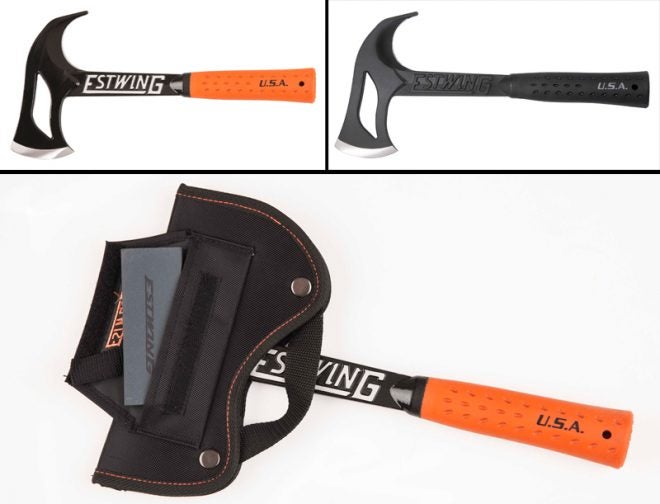 Estwing. Perhaps the name resonates with you the way it does for me.
For me, a carpenter's grandson, Estwing means hammers–good ones. Claw hammers, mainly, but also specialized hammers as well as axes and hatchets.
And above all else, quality. I have never, ever, seen an Estwing product that sucked.
So today, when I passed by Estwing's modest booth at SHOT Show 2017, I hesitated. And in that moment, I spotted something that appealed to me.
It was the Estwing Hunter's Axe. This magnificent creation is essentially a hatchet with a huge gut hook on the back end and a skeletonized axe head to lighten things up–as much as any steel-frame hatchet can (or should) be lightened up. And let's not forget the signature Estwing shock-absorbing grip that's molded onto the handle.
After we extracted the Axe from its rugged packaging, I was even more impressed. The gut hook is huge and would be right at home dressing an elk or a moose, much less a whitetail. A sharpening stone is included, which has a rounded side for maintaining the gut hook and has its own compartment in the tough scabbard that encloses and protects the axe head when it's not in use.
A good, sharp axe blade (and I can attest that this one is very sharp right out of the package, since we used my pocket knife to open the package right there in the booth) can be very useful in quartering a big game animal for packing it out of the boonies. And I don't have to tell anyone reading this just how useful a hatchet or small axe can be around the camp or homestead.
Originally made in all black, testers reported having trouble finding it after laying it down in the woods… so they changed the handle color to orange and added white lettering on the logo. Both color schemes are currently available.
The Hunter's Axe has an overall length of 14.25 inches and a 3″ cutting edge on the axe head. Their website doesn't list any more specifics, but rest assured I will provide more info in a review at a later date.
For hunters, this small axe should be a real boon. I hope to test that theory in the hunting woods before too long, and I will happily report on it right here at AllOutdoor once I've had the chance to put it through its paces.