While walking the floor at SHOT Show 2017, I stopped by Battenfeld's booth. The company owns quite a few shooting-related and outdoor brands, and they're always coming out with something new. Here are a few of the new items for 2017:
Tipton Ultra Gun Vise
The Tipton Ultra Gun Vise looks pretty useful. It has all kinds of adjustments and has front and rear clamps. The knobs for clamping open and close quickly, so you don't have to sit there turning them forever to get something done.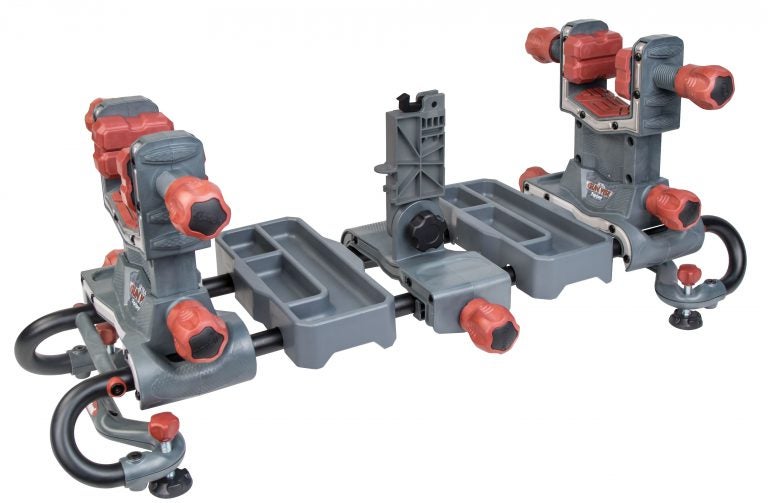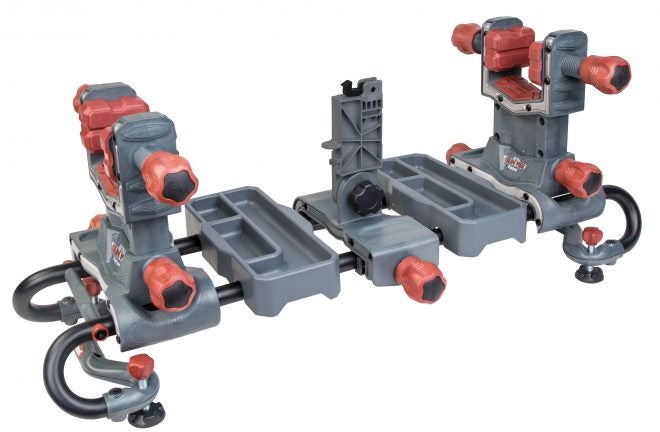 The clamps slide on the steel frame and can be fixed in place, and that funky thing sticking up in the middle is an adapter that fits into an AR's mag well, so this will hold an AR securely for cleaning.
Some manufacturer specs:
Rigid Steel Frame
Modular chassis design
Different modules can be quickly moved, rearranged, or removed anywhere along the rail
Over molded rubber contact pads throughout the device prevent damage to firearm
Ball and socket articulating clamp pads allow for the pads to adapt to any surface
Leveling feet on all corners makes scope leveling easier
Dual Clamp Technology rigidly holds any gun shape in place
Tube frame structure allows for complete access to your rifle
Fast-Turn knobs for quick clamping
AR Vise Block module included for working on and cleaning AR-15s
Front and Rear clamps are both height and length adjustable
Modular system allows you to clamp components like AR Upper assemblies without needing to have them attached to the lowers.
Works with break action firearms. You can clamp the forward/barrel while leaving the rear to swing open
Works with handguns allowing you to mount optics or clean efficiently
2 re-arrangeable or removable accessory trays
Engineered Glass Filled Nylon construction
Stainless Steel reinforcing plates
Solvent-resistant materials
MSRP: $179.99
Tipton Power Clean Electric Gun Cleaning Brush Kit
This looks pretty cool. The Power Clean Brush is a battery-powered unit that takes interchangeable brushes and comes with an adapter so you can use any threaded bore brush in it.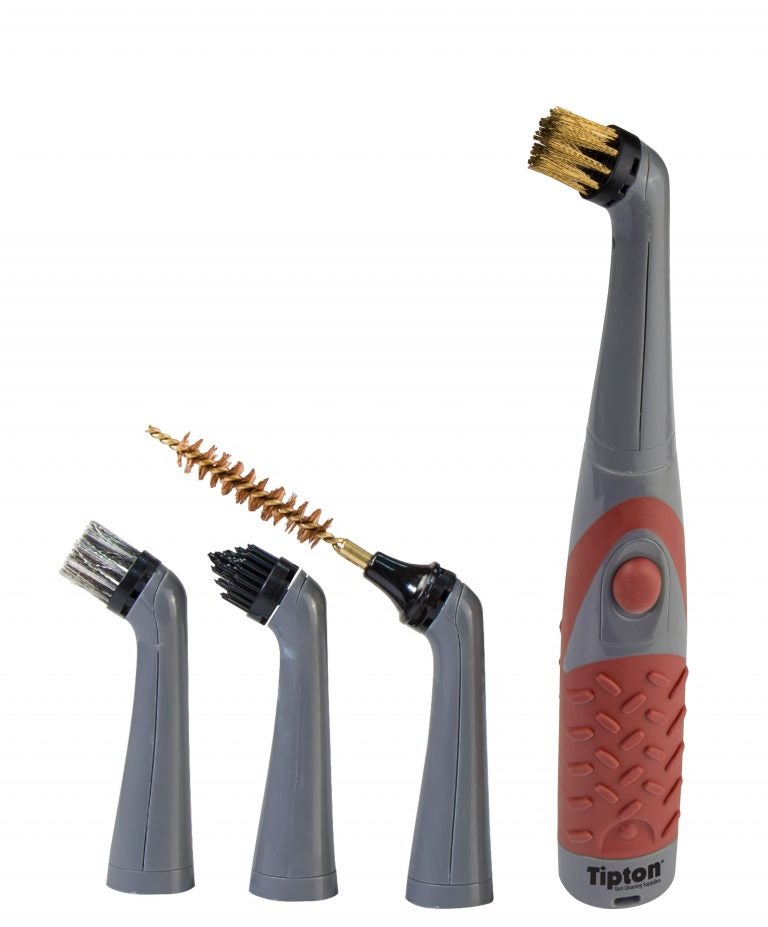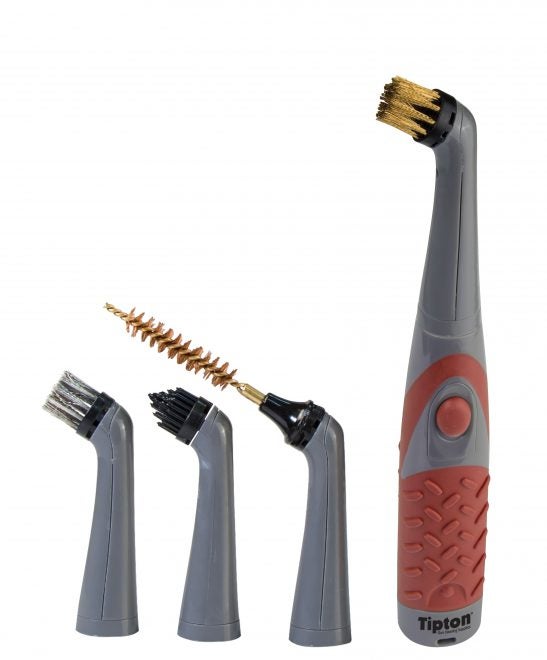 It looks like this could really help knock some stubborn crud loose from hard-to-reach areas.
Specs:
Power handle is sealed and resistant to solvents and oils
Bristle heads are 3/4" diameter
22 caliber nylon bore brush included
Interchangeable bristle brush heads: plastic, stainless steel, and bronze Adapter head that accepts 8-32 threaded cleaning brush tips
Powered by 4 AA batteries (not included)
Soft touch rubberized handle and power switch
Pulse or continuous modes
Scrubs at 3600 oscillations per minute
MSRP: $47.99
Caldwell Mag Charger Universal Pistol Loader
This thing works pretty slick; I got to try it for myself.
The Mag Charger adjusts for magazine width (it works on single- and double-stack magazines), then you insert the magazine and clamp it in place. Then you just stick a round into the Charger and squeeze the handle. Some mechanical magic occurs, and that round gets loaded into the pistol mag.
It's larger and bulkier than other magazine loaders, but it worked quite well when I tried it.
Specs:
Universal magazine design
Works with both single-stack and double-stack magazines
Loads 9mm, 10mm, 357, 40 and 45 cal ammo
Simple to use. Just drop in a round and squeeze the lever
Polycarbonate construction
MSRP: $47.99
Caldwell Stinger Shooting Rest
The Stinger is a new rest, and it's clearly named for its resemblance to a scorpion. This rest is adjustable for length by moving the front rest back and forth on the rails. Height adjustment can be done quickly and with one hand, which is nice.
Specs:
New spring loaded elevation system allows for fast one handed, no wobble adjustment
Extremely fine elevation adjustments with fingertip control
MSRP: $129.99
Caldwell Lead Sled 3
The Lead Sled has been popular for a while, and it's just been improved upon. The Lead Sled 3 replaces the front bag with a durable rest of a rubbery material and adds a recoil-absorbing insert into the molded plastic butt cradle.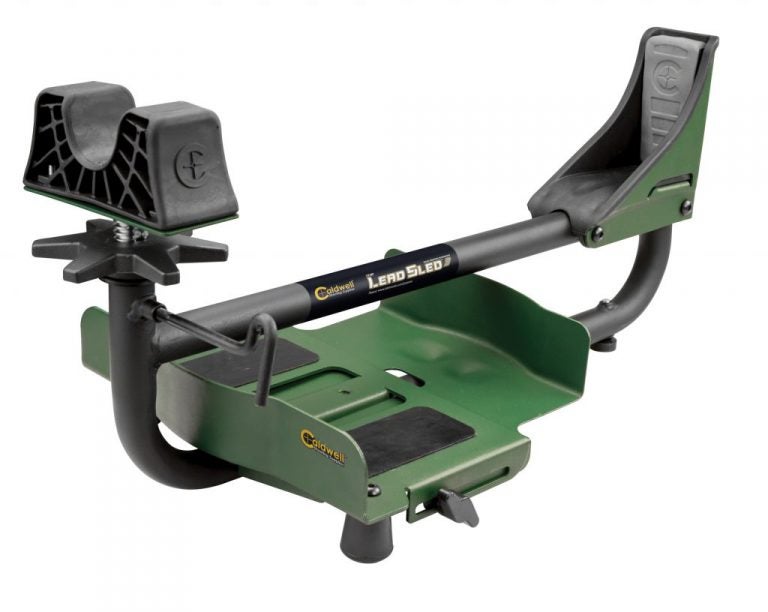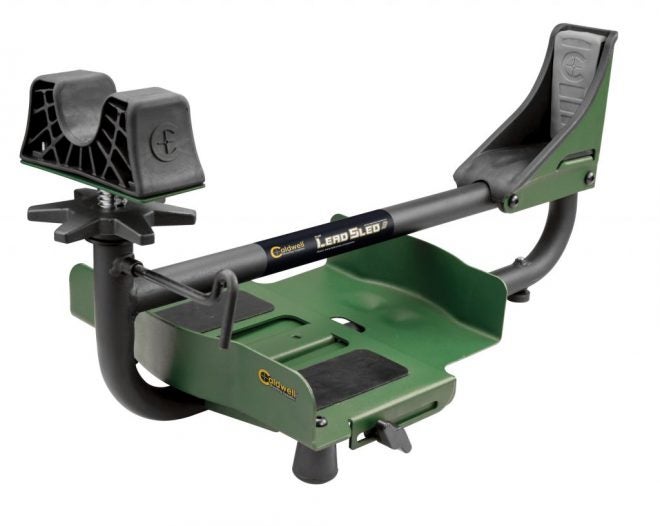 Specs:
Holds up to two 25 lb. bar bell weights
Holds up to 100 lbs. of lead shot
Fingertip elevation adjustment
Non-marring rubber feet
Rear adjustable elevation
MSRP: $159.99
Caldwell Lead Sled DFT 2
The dual-rail version of the Lead Sled has been updated and dubbed the Lead Sled DFT 2. Unlike the single-rail version, the DFT is adjustable for length. It also allows use with extended magazines (ARs, etc).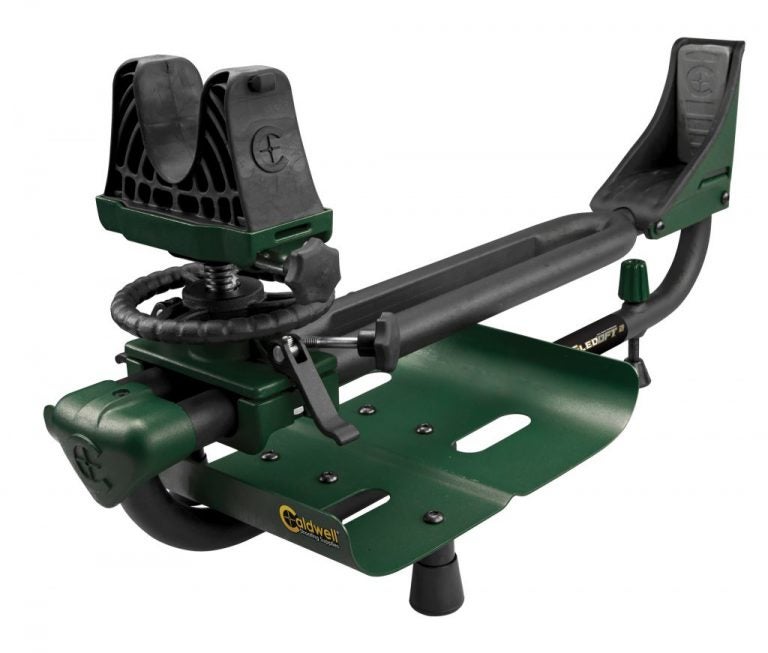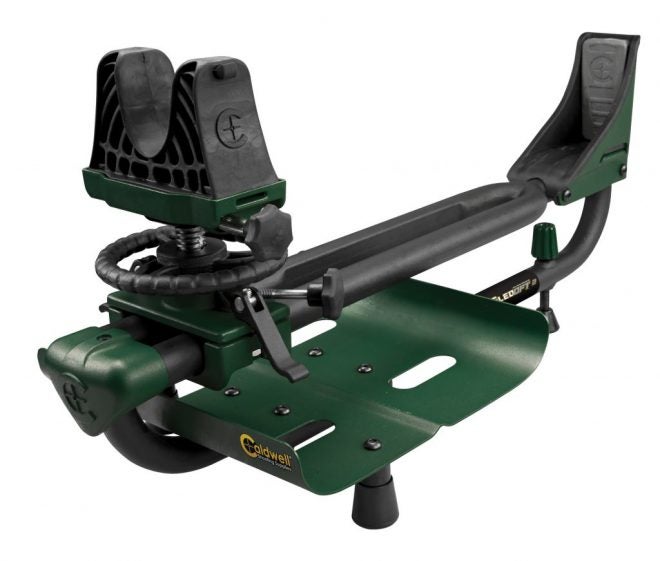 Updates include the replacement of the front bag with a ventilated rubbery rest that ought to be more durable and an insert of shock-absorbing material in the butt cradle.
This rest is heavy! Trust me; I own the original DFT. Check the specs for details. It's not light to tote around, but that helps it control recoil.
Specs:
Dual frame design disperses a maximum amount of recoil energy
18" of adjustment to fit rifles and shotguns of virtually any size
Holds up to 100 pounds of lead shot
The Lead Sled DFT 2 weighs approx. 24 pounds and is 30" long by 12" wide
MSRP: $259.99