Real Avid's Bore Boss Pull-Through Bore Cleaner
Russ Chastain 01.19.17

The SHOT Show is a marathon of madness, highlighted by the occasional discovery of something really great. That's what happened yesterday in a media brunch. After downing a breakfast burrito, I made the rounds of the product tables and one thing jumped out at me: The Bore Boss.
This thing is so new that it's not even on the Real Avid website yet (that's who makes it). Bore Boss is a pull-through bore cleaner that's designed to be better than the ones we've grown used to.
Let's start at the beginning. Here's what the Bore Boss looks like when it's stored away (left) and after you fold back the flexible rubber cover.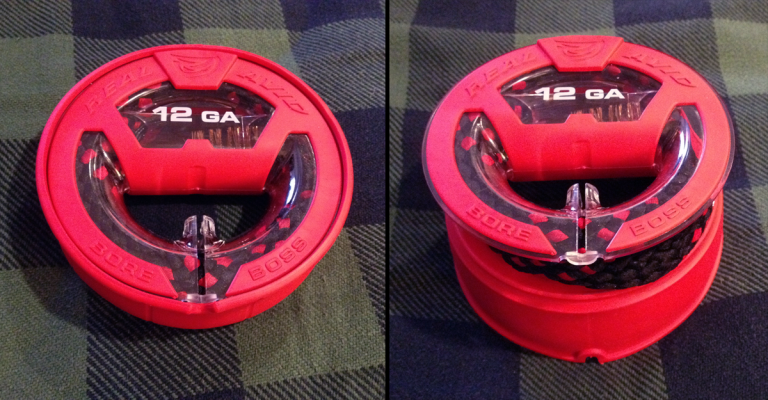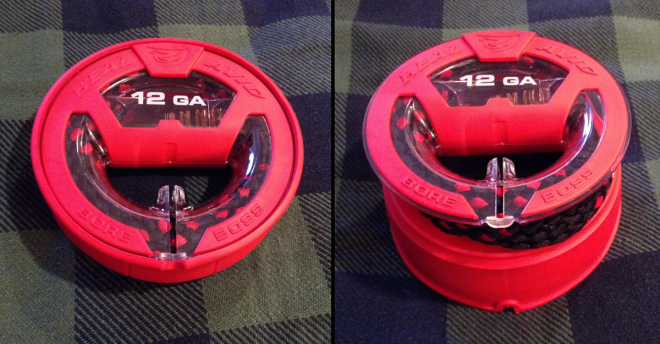 This next photo shows how you can pull the flexible cover to access the bore cleaner. The red rubbery TPR is bonded to the transparent polycarbonate that forms the storage case, which doubles as a handle for pulling the cleaner through the bore.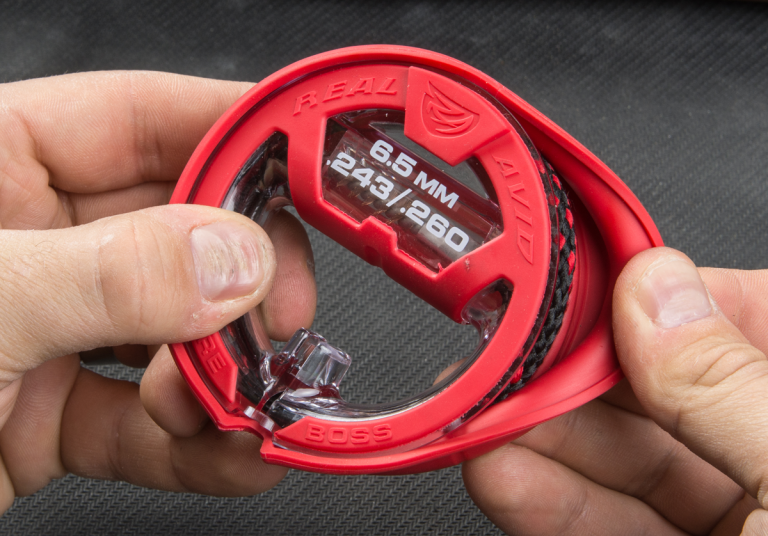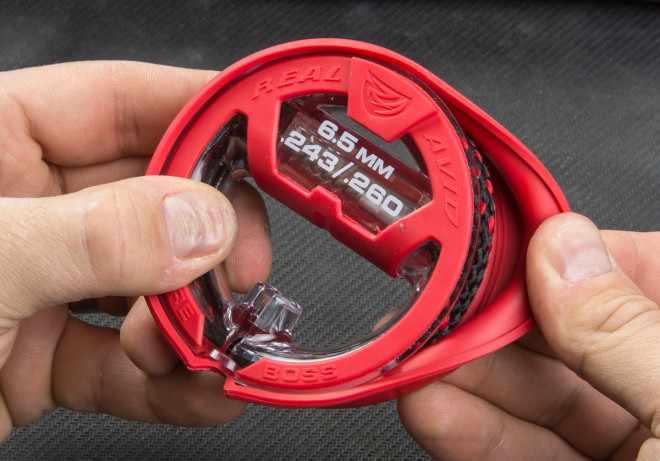 Here's the bore cleaner. This is a 12 gauge model, which is the largest one they currently make.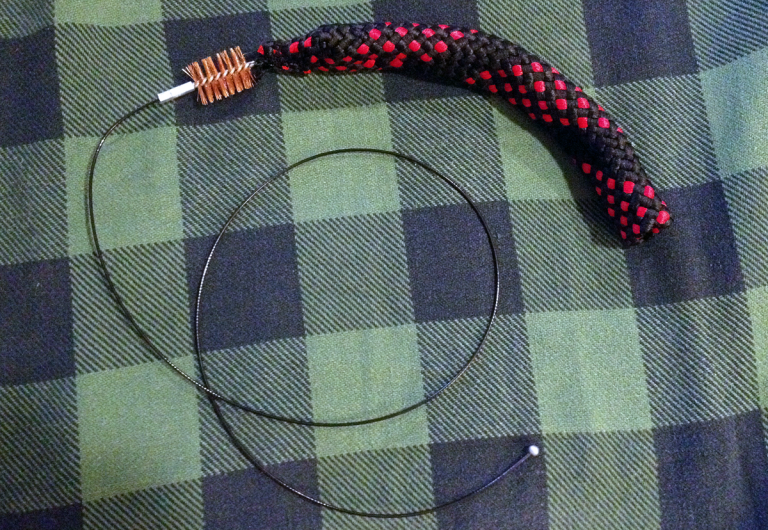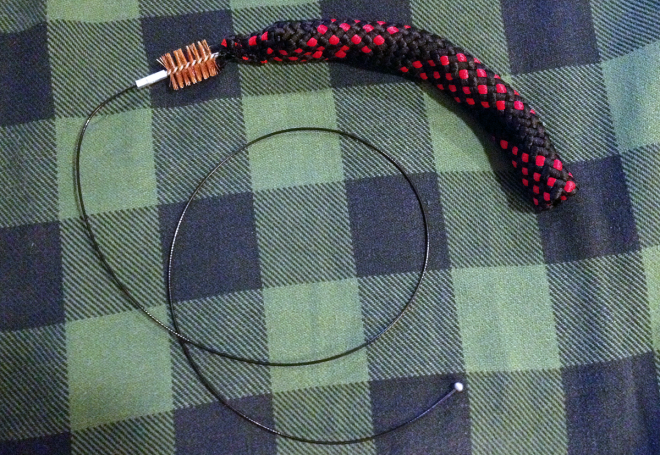 Instead of a weighted string, there's a coated steel cable with a metal ball formed on its end. You feed that into your gun's bore. And since it's cable, you can feed it in rather than relying on gravity to pull the string through.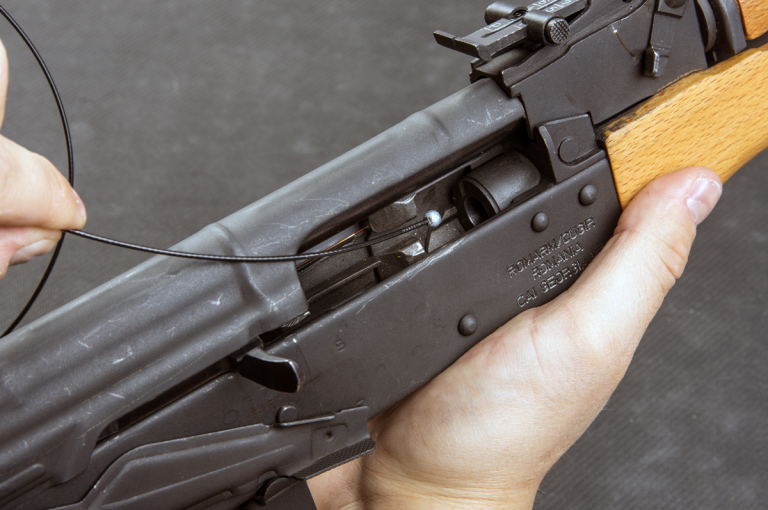 Once the cable is through the bore, you can attach it to the handle/case and pull it through the bore. A phosphor bronze bore brush leads the way through the bore to loosen fouling, and a braided mop follows to pull the crud out.
When you're done cleaning, you store it by feeding the bore cleaner through the handle until the brush is in the tube, then wrap the cable and mop around the case. Fold the overmolded red flexible cover into place, and that's it.
Best of all, it's priced lower than its competition, with a suggested retail of $9.99 regardless of caliber/gauge. I'm really looking forward to trying this thing out.
Keep an eye on the Real Avid site; I'm sure they will be adding the Bore Boss soon.
Available sizes
.22 Cal.
.223/5.56mm
.243/.260/6.5mm
.270/.280/7mm
.30/.308/7.62mm
.357/.38/9mm
.40/.41 Cal.
.44/.45 Cal.
20 Gauge
12 Gauge
Manufacturer Specs
Polycarbonate outside with TPR over molding
Dual Action Cable loosens and removes carbon
Flex-Case Handle stores and protects Dual Action Cable
Clean storing system keeps carbon, cleaners, lubricants from causing a mess
Ergonomic Handle easily pulls Dual Action Cable
Patent-Pending Design
MSRP $9.99 on all 10 sizes