Ram Mounts Offers Many Ways to Mount Cameras and Other Stuff
Russ Chastain 01.24.17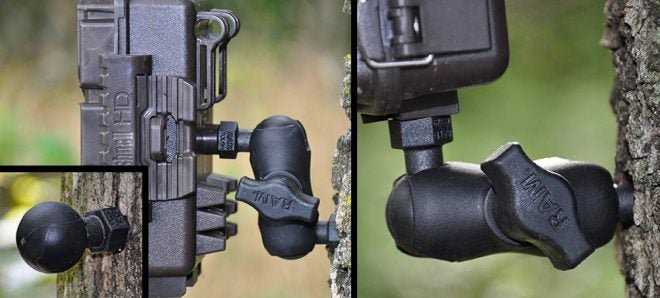 The other day at the SHOT Show, I stopped by a display to check out Ram Mounts and their many products. If there's something you need to mount to something else, chances are they have a solution that will work.
These days, most of us have smart phones or similar devices, and many of us use them in our vehicles for navigating unfamiliar roads. Chances are, the most common basic mounting need is a steady and secure way to mount a phone in a vehicle. I've tried cheap Chinese ones that mount to the windshield with a suction cup. Some of them work for a while, but they tend to vibrate quite a bit and fall off after a while.
I haven't gotten to spend a lot of time with it, but I have one of Ram Mounts' X-Grip phone cradles with a double socket ball arm and suction cup mount. Having a ball at each end of the arm allows a huge range of adjustment, and once it is tightened, the arm clamps the balls tightly and stays in place.
At $55.49 on their site or $44.99 on Amazon, this mount is not cheap–but like so many things, you get what you pay for. It's made in the USA and has a lifetime warranty.
The X-Grip holds my phone securely in my truck, and there's a tether included as "insurance" to help prevent the phone from coming off. This should help prevent your phone from hitting the dirt when using the mount with motorcycles, ATVs, UTVs, etc.
The X-Grip itself comes in different sizes and can even handle large tablets such as iPads. And because it grabs the device at only four points, you can still get to the buttons and other controls.
This short video demonstrates the X-Grip pretty well:
The common thread in most of their mounts is the double-ended clamping arm. Basically, you secure a ball to a surface to which you want to mount something, secure another ball to your object, and the clamping arm goes in between. Move things around in pretty much any position, then tighten the clamp knob on the arm and you're done. The balls have a sort of rubbery texture that allows the clamp to really "grab" them.
They have many more mounting products, including a new one for mounting game cameras. If you have ever set up a trail cam–and many of us hunters and survivalists have–you know how aggravating it can be to get the angle set correctly. Most of the time we use straps or bungees to attach the camera to a tree, then we cram sticks between camera and tree to adjust the angle.
Ram Mounts' Tough-Tap Universal Trail Camera Mount provides a different solution: Screw one of their lag balls into a tree or post, attach a ball to your camera, then connect them with a clamping arm. This ought to make it a lot easier to get the right angle. And if you use your camera at multiple locations, just pick up some extra lag balls to screw into other trees.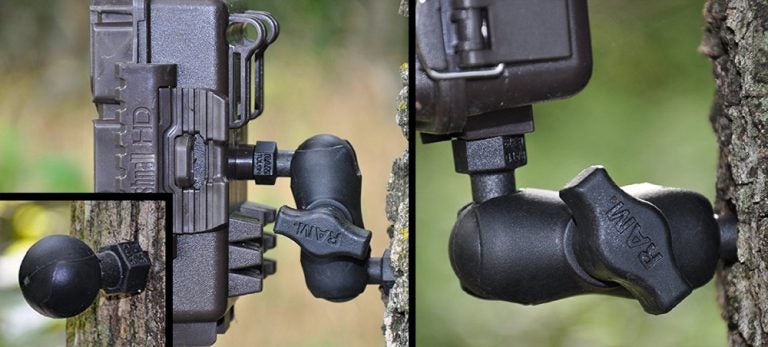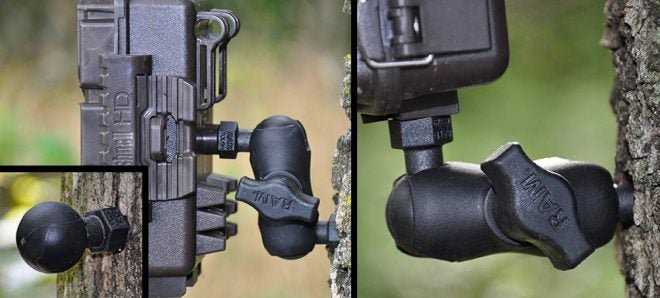 This is so new that it's not yet on their website. Here are some specs:
1″ long lag bolt with a B-size ball
1/4″-20 threaded stud with a B-size ball
Short clamping arm to connect the balls.
They even have a holder that attaches to a holster's belt loop, so you can securely mount a handgun holster to keep your gun nearby and handy. (You'd mount a ball to the area where the arrow is pointing.)
This might work better with a hardshell holster, and in fact I was shown a rigid plastic holster made specifically for a two-screw Ram ball mount, so that is clearly in the works
Ram has far too many products to list here if I wanted to. Suffice it to say that if you want to mount one thing to another, chances are pretty good that Ram can help you get it done. They have ball mount attachments for many different devices, and for the other end they offer balls that attach to surfaces via magnets, screws, clamps, suction cups, lag bolts, U-bolts, straps, and even adapters that you shove down into a cup holder.
They have several diameters of balls and clamps to handle different amounts of weight.
Whether it's a small GoPro or a heavy full-size video camera, electronics for your boat or other vehicle, a drink holder that swivels to keep your beverage level at all times, or just about any other scenario you can dream up, it looks like Ram has it covered.
Ram Mounts are made in Seattle, Washington, USA, and they carry a lifetime warranty.