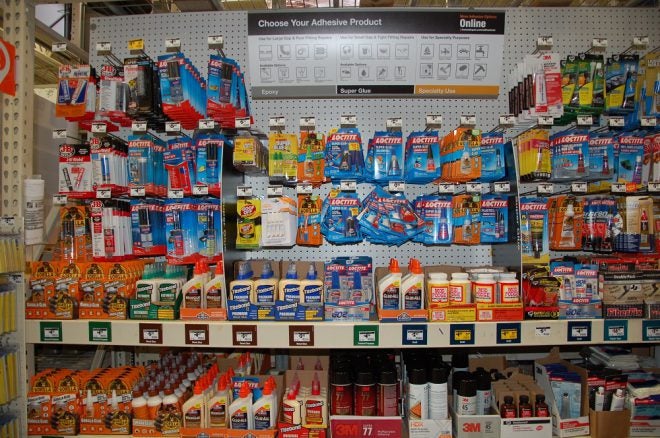 The handle just cracked on a favorite kitchen knife. The sole on your secondary yard working boots is smiling at you. A tile in the back bathroom keeps popping up and on and on. How do you fix such things? Well, with glue of course. However, that white school glue does not always get the job done.
So, be ready to repair all these little minor annoyances with a wide selection of different types of glues appropriate for the job. Pick the right glue and follow directions. Hardly a week goes by that I don't check my glue box for a tube of something to repair something.
Really? Yep, just in the past few weeks, I have had to select a glue for a variety of projects. My everyday outside "go to the mailbox" slippers just had a sole tear loose when I used the shoe to clear off a water drain pipe in the yard. I used some heavy duty, waterproof, shoe goop to seal the bottom back on the leather top. I've done this for hunting boots many times.
Next I used a super glue to tack down the loose end of a rifle sling that just kept getting in the way. Then I glued a repair patch over a cut I got in hip waders I use in deer camp. I used a glue to engage the threads of a loose sling attachment screw on a shotgun. Every time I mount a scope I use a special thread glue to help keep the mounting screws locked down in place.
As you see, this goes on and on. Glue can provide a very simple repair to so many things, if the right glue is chosen and the gluing process is done right. The process usually includes the clamping of the pieces to be glued together until the glue material completely dries. For that I use woodworking clamps, C-clamps, sliding clamps, straps of rubber tire inner tube, and quite often a selection of rubber bands of all sizes. This is part of the gluing process.
There are a lot of different glues on the market for just about as many applications. Shop the glue selections at a good hardware store to pick the ones you need most. Having glue on hand is just as important as having other repair supplies and parts in stock.