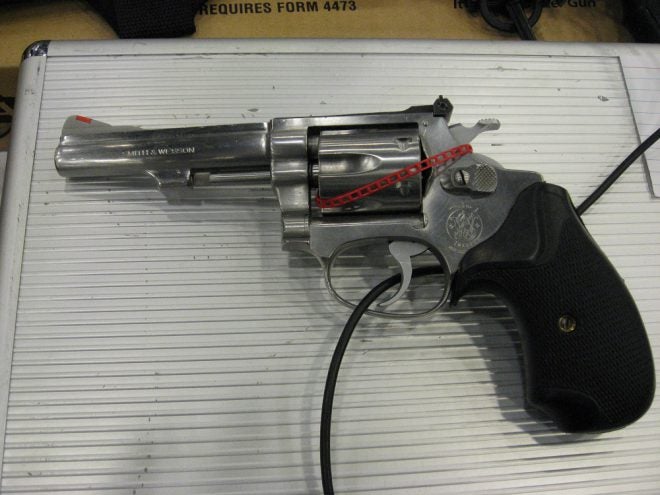 Back in 1977 Smith and Wesson began making a rather unique, small, 6-shot rimfire revolver they cataloged as the Model 63. Some call it the 22/32 Kit Gun. It came in 2 or 4-inch barreled versions made of stainless steel. It had a rear adjustable sight and a ramp front with a red insert, walnut grips, and was quite lightweight at 24.5 ounces in the 4-inch. They discontinued the Model 63 in 1998. I long wish I had not sold mine.
The spike to this little neat revolver was its nickname, the "Kit Gun." By kit, it meant the gun was intended to be dropped into a hiking backpack, a fishing tackle box, a storage case on an ATV, or carried along on hunting treks into the backwoods. It was perfectly ideal for this mission.
Today the "Kit Gun" concept is a viable as ever. The intent and purpose is the same as was meant for the Smith Model 63. Preppers, survivalists, anybody out in the outdoors for any reason should consider packing a Kit Gun. Just the designation alone means a lot of different things to a lot of different firearm users both novice and experienced.
And by "pack" we are not insinuating carrying concealed either, but having a small gun in a carry case, backpack, satchel, tool box, tackle box, or other mode of carry. It might even been holstered on a belt on the hip when outdoors, but not around the office or in public.
Kit guns vary widely these days. Those picking a simple to use revolver should consider a .22 long rifle as a bare minimum, or more likely a .38 Special. But a "snub nose" type handgun with a short barrel that grips well is the ticket. Learn to shoot this type gun at close ranges with full power ammunition or defensive load. Leave the big magnums alone for this purpose.
The other popular handgun type is the semi-auto pistol. Viable calibers are the .380 ACP and the 9mm. Many models are available, but choose a small, compact version that is easy to pack and carry. Again, choose a reliably functioning self-defense load that works in your gun.
Whatever you do with your kit gun, practice with it often. Know how to load, unload, and maintain the gun. Know how to quickly engage it when the need arises.