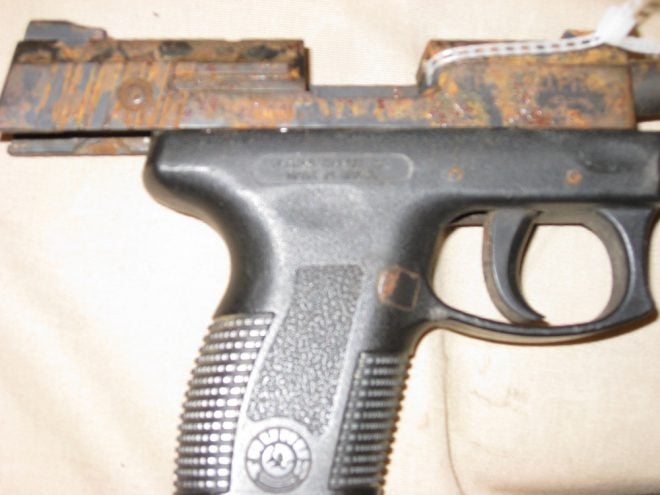 Firearms fall victim to two particular enemies that attempt to destroy their function, value, and purpose. These two enemies are rust and politicians. Think about it. What other factors or influences negatively impact the usefulness or existence of firearms than these two elements?
It amazes me from time to time how some gun owners allow their prized and expensive firearms to languish without proper maintenance to the point of total destruction. Once a friend brought me a black powder revolver to see if I could extract the bullets from the cylinder.
Trouble was the gun had been loaded about a year before then tossed into a gun cabinet drawer. The cylinder had completely corroded and crusted over. Black powder, not the synthetics, are highly corrosive and this neglect ruined this nice handgun. It fact, it was dangerous in its current state to the point that my advice was to discard the gun in a safe manner. I suggested a long soak in a bucket of diesel fuel to deactivate the powder, then chunk it.
Members in my own bug out camp often bring me guns that have never been cleaned or maybe were not cleaned since the previous hunting season. By that time without so much as even the most basic of maintenance such as wiping the gun down with an oiled cloth, rust had already begun to creep into the crevices of the scope mounts, open sights, and along the bolt action mechanism. With some work, I was able to salvage the gun, but it was now pitted forever.
Just like a valuable vehicle that requires regular maintenance to keep up peak performance, guns also must be cared for with essential maintenance. Now, while a complete disassembly and break down cleaning may not be essential after every single shooting session, anything metal demands some maintenance procedures.
Especially hunting guns, personal defense firearms, and any guns exposed to the environmental elements on a regular basis do require upkeep. After extended use, this includes cleaning the barrel thoroughly, scrubbing all metal with an appropriate brush and solvent, cleaning wood and synthetic stocks, and optics. Clean, well maintained gun can last a lifetime.
Firearm's other enemy is politicians that fight against the 2nd Amendment, gun rights, legal ownership, legal concealed carry, open hunting seasons, and all issues related to legal gun use. So, beware of these two enemies of guns. Either one could ruin your use of valued firearms.