Mountain House Beef Stroganoff With Noodles
Kevin Felts 01.30.17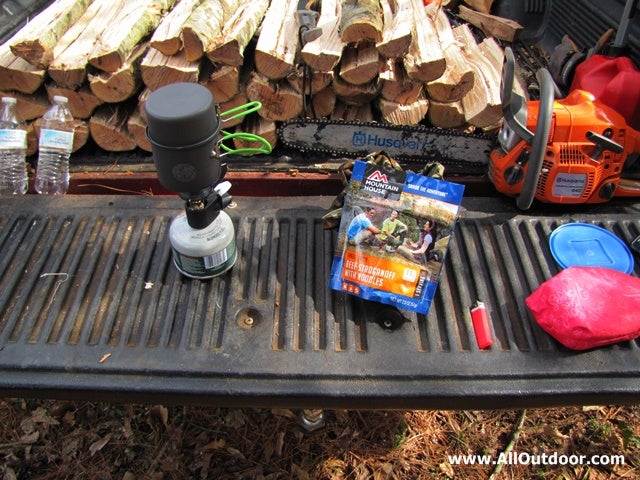 Mountain House produces a freeze dried beef stroganoff with noodles in a mylar pouch. The pouches used to have a seven year life expectancy. However, Mountain House recently updated the life expectancy of the pouches to 30 years.
For those of you not familiar with the freeze dried process, the product is cooked, flash frozen, and then put in a chamber, where it is exposed to a vacuum. The vacuum pulls all of the moisture out of the food, more so than dehydration.
The food is put into a mylar lined bag with an oxygen absorber, then sealed.  The result is a food product that has an estimated shelf-life of 30 years.
Nutrition
Taken from the label:
Calories 260
Calories from fat 100
Sodium 800mg / 33% daily value
Total Carbohydrates 29g / 10% daily value
Protein 11g / 22% daily value
Vitamin A 4% daily value
Calcium 8% daily value
Vitamin C 2% daily value
Iron 6% daily value
Beef Stroganoff Taste Test
The label on the back said to add 3/4 cup boiling water to the pouch. A cup is eight ounces. 3/4 cup would be six ounces. I boiled between 7 – 8 ounces of water then added it to the pouch.
Over the years I found that if you add the exact amount of boiling water Mountain House says, the food tastes like it was not fully re-hydrated. So I add a little more than the label says.
The pieces of beef were perfect sized; some of them were a quarter inch thick.
The sauce had a wonderful flavor. Some of the Mountain House meals I have tried, the sauce is rather bland. The beef stroganoff sauce had plenty of flavor.
Noodles were just right.
Overall
The beef stroganoff is one of the better Mountain House meals I have tried and plan on buying more. My favorite Mountain House pouch so far is is chili mac. I put the beef stroganoff right next to chili mac, or maybe slightly under chili mac.
Here on the farm, I am fencing in several acres for goats, short haired sheep, and maybe a few cattle. Instead of going back to the house to get a sandwich, I brought my cook set and ate the beef stroganoff with noodles where I am working.
I have found the Mountain House freeze dried pouches to be a quick and easy meal. Rather than taking the time to pack a lunch or go back to the house for lunch, just grab a pouch and throw it in the truck. These are some of the best grab-and-go meals on the market.