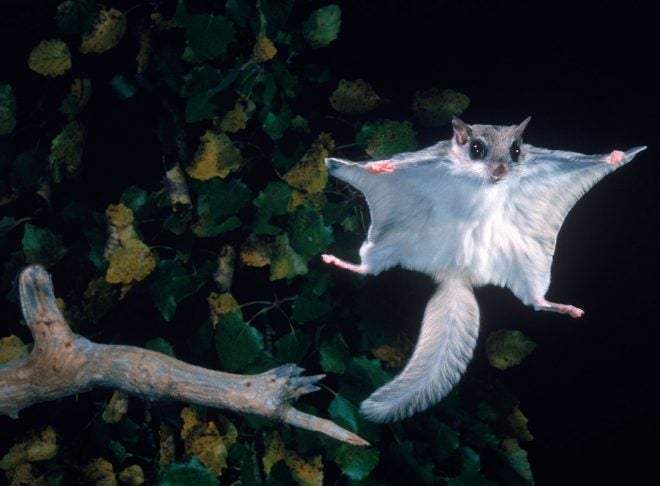 Mike Mooney is a well-traveled bowhunter and on the shooting staff of PSE Archery. He hunts whitetails with a vengeance and it takes a lot to unsettle his iron hunting nerves. But Mooney nearly lost his cool one afternoon as he climbed into a lock-on tree stand he had set up several weeks previously.
Under a wooden platform stand base Mooney had screwed in a small cloth, military-style ditty bag, which he used to store screw-in tree steps. The bag had a metal clasp that closed when steps were stored, but he'd left the bag open for the four weeks since he'd placed the stand high in a Georgia oak tree.
The afternoon Mooney decided to hunt the stand he moved quietly to the spot, not wanting to disturb deer in the area. He quickly climbed the steps on the tree, and as he reached the stand and grabbed it, the ditty bag shuddered as three sleeping flying squirrels that had found a new, perfect home awoke.
Mooney's face was just a foot from the open ditty bag, while hanging onto the tree, standing on tree steps. The squirrels left the bag in a panic, sailing out and into Mooney, bumping into his face and shoulders, hands, and arms.
"It was like walking into a cave full of attack bats trying to fly through you," he remembers shaking his head, somewhat smiling, but beads of sweat on his brow. "I almost let go of that stand and jumped out of the tree, and I yelled as loud as I could. Those little squirrels scared me to death. Probably the deer, too, 'cause I never saw a whitetail from that stand."