GunAlert Bluetooth Device Can Spoil a Thief's Day
Russ Chastain 02.08.17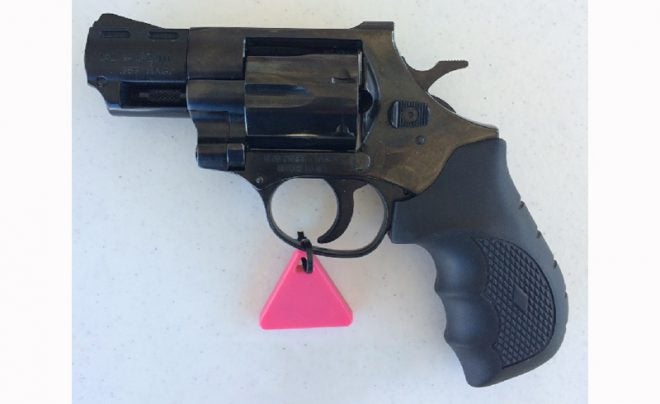 At the 2017 SHOT Show, I was stopped by a nice young lady who then told me about GunAlert, a handy little device you can attach to most any item (in her example, a handgun on display at a gun show) that will alert you if someone takes the item away.
GunAlert is a small device that you attach to your gun (or whatever) using a zip-tie or other similar method. The device uses Bluetooth to communicate with an app on your smart phone (or other Bluetooth-capable smart device). If the device moves more than about 20 feet from your phone, it begins to blink and beep and your phone also sounds an alarm. So much for the five-finger discount a thief thought he was about to receive.
Here's what the company says about it:
The latest in anti-theft devices especially effective for gun show exhibitors!

GunAlert uses Bluetooth technology to reduce theft when your valuables are on display at trade shows.

The purchase of GunAlert comes with full, simple instructions and a 4-inch connector tie.

After receiving your GunAlert, download the free app (iTracing), follow the simple directions, attach GunAlert to your gun/display item and within seconds your item and your phone are tethered. If the item wanders approximately 20 feet from your phone, both the GunAlert and your phone sound an alarm -– alerting you that your gun has been removed from your display and exposing the thief with a blinking, beeping device in his hand.

You can "tether" an unlimited number of GunAlerts to your Bluetooth device/phone. You can identify or name each GunAlert and assign a unique alarm sound to each of them.

The product includes a mapping feature. In the event your gun is removed from your display, the Bluetooth mapping will record the coordinates of the GunAlert's last location.
Despite the GunAlert name, this can of course be used on anything you want to keep track of and don't want to "walk away" from you.
Pretty cool. Heck, I've seen the time when it would've been nice to have something like this attached to my car keys, a GPS unit, or a prized hunting knife when I'm out hunting.
GunAlert sells on their website for $20 shipped.