Review: LaRue Tactical Dillo Dust Pork Shoulder
Jon Stokes 02.08.17

I recently bought some mounts from LaRue Tactical, a company that needs no introduction to AR fanatics. These guys make some of the best precision detachable mounts on the market, and they also make high-quality rifles.
Anyway, this being my first run of LaRue orders, it was my introduction to the world of LaRue Dillo Dust.
Dillo Dust is the "tactical" dry rub that ships for free with LaRue products; you get a little 7 oz jar. It's not available for sale separately, which is a shame because it is excellent. Not really being aware of how great it was, I blew most of my jar on a large pork shoulder that I smoked in my Big Green Egg.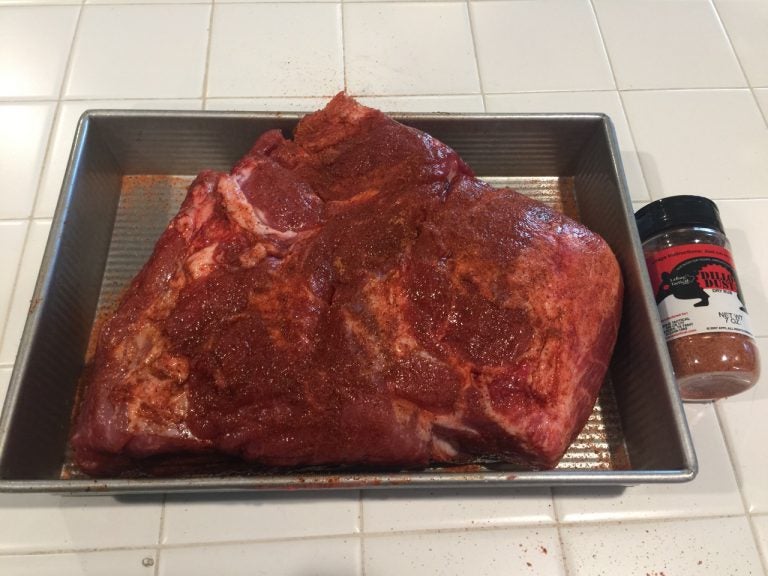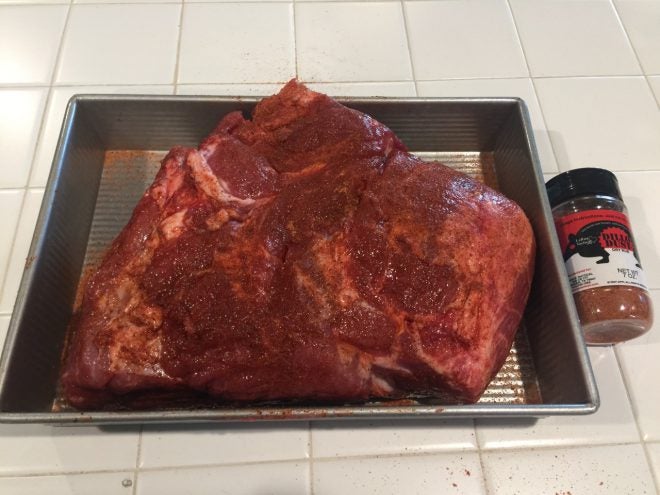 At the top of this article is a shot of the results. It was excellent, and the guests raved about it. It didn't last long.
Now I need to order more LaRue products so I can get more Dillo Dust. I mean, there are worse problems to have.
Bonus: Jon's Dry Rub and Chicken Tenders
I actually make a rub that's very similar, but that has more stuff in it. My friends are into it so I've been passing it around via email for a few years. I might as well post the ingredients here, in case anyone wants to try it:
1 cup evaporated cane sugar
1/2 cup dark brown sugar
1/2 cup paprkika (smoked paprika if you can find it)
1/4 cup Lowry's seasoning salt
1/4 cup garlic salt
1/4 cup celery salt
1/4 cup onion salt
3 TB chili powder, dark
2 TB black pepper, table grind
1 TB lemon pepper
2 tsp sage, ground
1 tsp dry mustard
1 tsp Tony Chachere's Cajun Seasoning
1/2 tsp thyme, ground
1/2 tsp cayenne pepper
And here's a recipe for chicken tenders that uses the rub as the main ingredient. It's always a hit when I serve it, and I get requests for the recipe:
After creating the rub, put some raw chicken tenders into a large bowl and sprinkle rub over them, mixing them around so that they're coated in rub. Don't wash the tenders — just pull them from the package and put them directly into the bowl. They're nice and sticky when you open them, and this helps the rub stick to them.
I typically scoop the rub out with a 1/4 cup measuring cup and sprinkle it, then mix it around. Keep applying the seasoning and mixing it until you can no longer make the rub stick to the tenders and it falls loose in the bowl. You can't add too much rub — just apply as much as will stick to the tenders.
Let the tenders sit in the rub for about 30 minutes. I leave them out on the counter, but if you're paranoid you can put them in the fridge.
Put virgin coconut oil in a (preferably cast iron) skillet and melt it until you have about a half inch of oil in there. Heat the coconut oil on medium high heat, and start dropping the tenders into the skillet. Fry them on each side until they're done.
Once all of the tenders are done and you've put them on a plate or in a bowl, you can pour most or all of the oil that's left in the skillet over the tenders.