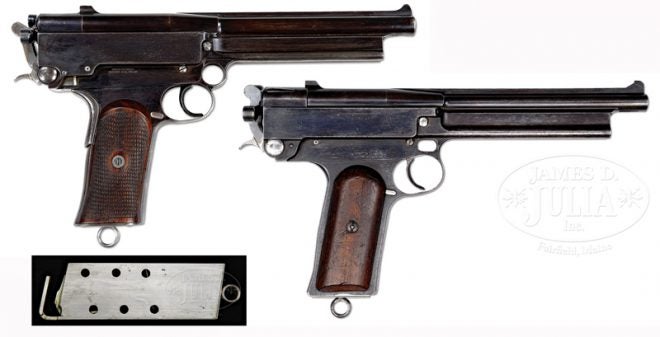 Some of our favorite "Forgotten Weapons" videos. We think you'll love them too.
Nomar M1911 Magazine-Stock
A huge, heavy, high-cap 1911 magazine that acts as a stabilizing brace? Yes, please.
A Most Unusual Over/Under Shotgun
This French scattergun loads from the side and has a two-piece forend that doesn't cover the bottom of the bottom barrel and a butt stock that comes right off.
A 6-Chamber Revolver That Fires 12 Times
You can stoke this wheel gun once, then fire it a dozen times before you have to start over. But be careful.
1908 Italian Bolt-to-Semi-Auto Conversion on M91 Carcano
Oh, just an experimental conversion that turned a bolt-action rifle into a semi-auto. Sweet!
Semi-Auto "Mystery Pistol"
A 32 ACP "rocking block" pistol that's like nothing else you've ever seen.
It's a Pistol, it's a Key
For opening a lock or trying to stop a belligerent prisoner, I guess.
Norwegian 1846 Postførerverge Knife-Pistol?
A double-barreled muzzleloading pistol with one hell of a knife blade between the barrels.
44 Caliber Hump-Back Zig-Zag Revolver
Exceedingly funky and completely unmarked, as if its inventor was embarrassed to have made it.
Super-Powerful Mars Pistols From the Early 1900s
"A phenomenally powerful and ridiculously complex handgun."