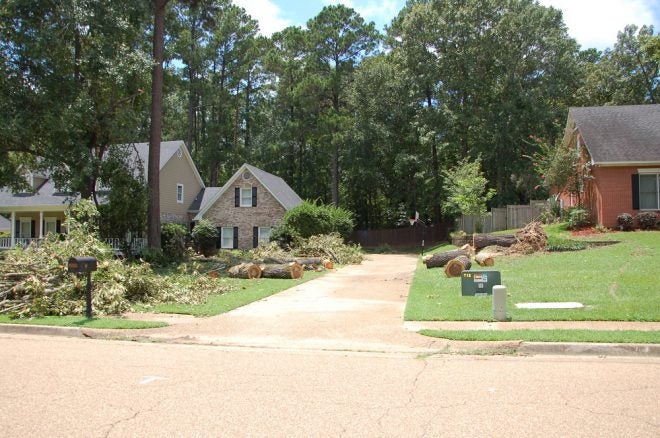 As I stood on the front porch of my urban house last month, I watched as an approaching thunderstorm was closing fast. The wind picked up, trees bent over, and stuff started sailing down the street. Then things really got nasty.
Rain was blowing horizontal. Lightning strikes were too close to the neighborhood to be comfortable yet the storm sirens in town never went off. I never heard thunder like that. It was a terrible storm. Then the power went out.
The next morning a huge tree limb was down in my yard and a neighbor across the street lost an entire tree. Several other huge oaks were down in the area, one nearly missing a house. The power was still out.
The outside temperatures were running into the high 90s with a southern humidity to match. The inside house temperature reached 80+ degrees during the day. We were without power for 42 hours due to a series of power lines being down, and it seemed to take the power company an inordinate amount of time to fix everything. This was, in effect, a mini-SHTF.
Now, think down the road about selecting a potential site for a temporary or even a permanent bug out relocation site. Maybe it would be just a campsite in the woods on a small tract of private property or a hook up location for an RV, camping trailer, or a mobile home. It could even be the permanent site for a secondary fixed structure home. What is the long-term reliability of the utility power source in that area? Some locations are more prone to power outages than others.
As you research potential areas for a bug out site selection, conduct some inquiries with the local power utility company as to outages in the area. If there are other residents nearby, ask them. Use your own discretion about what to reveal about your own personal relocation plans.
When you pick a site and arrange for an electrical power connection, see if that can be done underground. If poles are needed to run the power, pick routes away from trees or other obstructions that might interfere with power delivery.
If you are not that familiar with the general area, do some research on prevailing weather trends. Certainly avoid "tornado alleys" and such. Plan on buying your own gasoline power generator as a backup, too, just in case.