New Chili Seasoning May be the Best Thing Ever for Venison
Bob McNally 02.13.17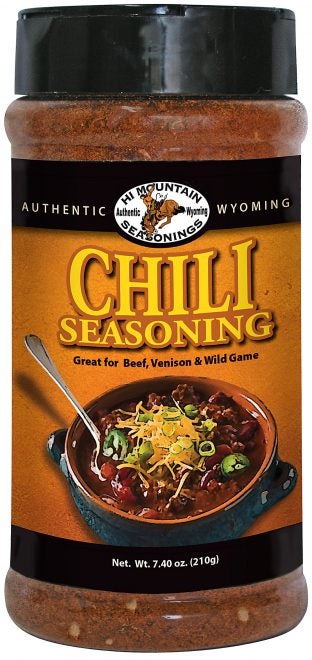 What to do with that freezer full of venison?
Chili is an obvious and delicious answer, and a new chili seasoning from one of the best wild game seasoning sources in America is sure to make hunters lick their chops.
Hi Mountain Seasonings (world renowned for its jerky making kits and high quality seasonings) has introduced a new Chili Seasoning: a zesty blend of authentic flavors including chili pepper, cumin, garlic, salt, black pepper, paprika, turmeric and onion. It's perfect for deer and other wild red meat big game (elk, caribou, moose, antelope, etc.).
Whether you are preparing a feast for the family or impressing the judges, the new Hi Mountain Seasonings Chili Seasoning will make your chili a winner. The 7.4 oz. shaker bottle will flavor approximately 9 lbs. of meat.
The bottle also has an easy-to-follow Hi Mountain Seasonings recipe for preparing a hearty, flavorful chili with beef, venison or any game fare you prefer. Preparing a hearty batch of chili has never been easier or better.
It's available for $9 at retailers and online at 
www.himtnjerky.com
, along with Hi Mountain's entire line of products, cooking tips, instructional videos, and recipes are also available at
www.himtnjerky.com
.