Six Towing Products that are Maybe Less-Than-Great
Russ Chastain 02.13.17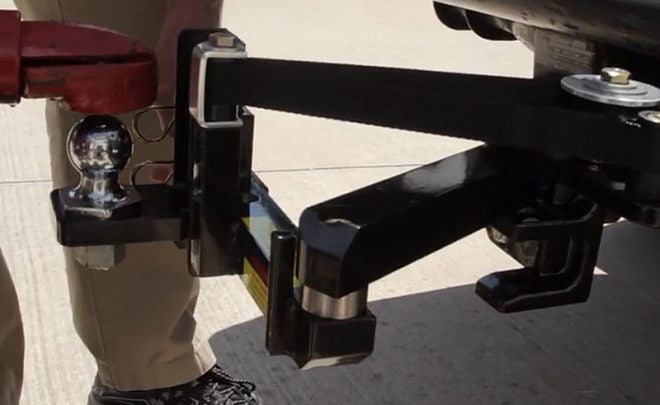 We outdoor lovers do lots of towing, whether we're hauling the boat to the lake, pulling a travel trailer to a hunt camp, or hauling UTVs, tractors, or other power equipment. Towing products are big business, and there are many great products out there. Unfortunately, it seems like there are two or more not-so-great ideas for every good one. Here are a few towing products that made us shake our heads and wonder why (although some seem okay at first glance).
Give them a look and see if you agree.
Reel Quik Hitch
Hitching up a trailer can be a chore, especially when the trailer is heavy and the tongue can't be moved by hand. In those cases, you have to get the hitch ball right under the trailer coupler. But the Reel Quik Hitch can be extended to the rear and off to one side, then you can hook up the trailer to the ball and crrrrraaank on a reel to get the hitch folded up again. Replace some pins and go happily on your way. Right? It's Hitchrific!!
Except that it costs $350-$400, is more complex and less rugged than a standard hitch drawbar, and might just herniate you if you have to "reel in" a heavy trailer.
The good news is, Reel Quik Hitch can swing a hitch-haul out of your way so you can open the back of your truck, but something tells me that problem can be solved more easily for a lot less money.
Hitch Loadmate
The Hitch Loadmate was apparently such a flop that the website has disappeared, and with good reason, if you ask me. It's essentially a trailer tongue dolly that you haul between your tow vehicle and trailer.
The "advantage" would appear to be that the Hitch Loadmate supports the tongue weight of your trailer, so your tow vehicle doesn't squat in the rear. But that puts the tongue weight on the Hitch Loadmate's two tires.
So you'll have two more tires to maintain and replace, two more sets of wheel bearings to take care of, and all the motorized mechanical stuff to worry about (it slides to the rear when you shift into reverse). Plus you will need someplace to store it, preferably under a roof.
No thanks.
Lock 'N' Roll Trailer Hitch
Lock 'N' Roll is a trailer coupling system that replaces the hitch ball and coupler with a more complex mechanism. The good news is that it allows a wide range of motion, arguably making it better than a ball hitch for off-road towing on uneven terrain, but each of those pivot points seems like it'd be more prone to wear than a ball and coupler.
I had to snicker at the end of the video where they showed some boat towing on some pretty mild terrain, presumably to demonstrate how good this is on uneven ground.
The hardest sell of all is that this system will never become standard, and you have to change out the coupler on every trailer before you can tow with this system. Un-good.
Max Coupler
The Max Coupler is another system to replace the old ball system of trailer hitch, but like others, it seems to have too many moving parts. Full articulation is nice, but more than one YouTube video shows a Max Coupler with what seems to be excess "slop," which may or may not indicate accelerated wear.
Personally, I don't like that the cross pin (the same style pin used to hold a drawbar into a hitch receiver) is used as a pivot point. Holding a hitch into a receiver puts a lot less stress on that skinny pin than this hitch system does.
Smart Trailer
The so-called Smart Trailer doesn't seem very smart to this guy. To use it, you have to install an elaborate hitch on your tow vehicle. The trailer attaches to that hitch via two–yes, two–traditional hitch ball couplers.
The weight of the trailer and its cargo is supported by a pair of swiveling wheels, which make backing up a breeze, but they don't look particularly robust for highway use. It also appears that the loaded trailer would be fairly "tippy" when unhitched, so it might be tough to unhitch and store the trailer while it's still loaded.
Hmmmm.
Never Miss Hitch
The Never Miss Hitch is another thing that started as a good idea, then became too elaborate and costly with too many loose pieces to keep track of and store. Who's gonna shell out $150 for this thing? (But if you want to, here's the link.)
Even if it wasn't obscenely overpriced, I couldn't NOT include this video. It is one of the cheesiest of all. It's riddled with misspellings and looks pretty dumb to boot. Enjoy!