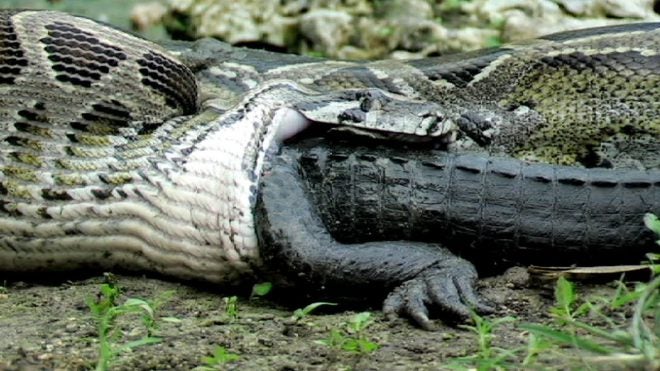 Two long-abandoned military buildings in the Florida Keys have recently been harboring something other than the missiles they used to house.
The U.S. Fish and Wildlife Service said four pythons, including a nearly 16-foot-long female, were found within the last month at an old missile base at Crocodile Lake National Wildlife Refuge.
The slithering reptiles turned up in a couple of old bunkers where the U.S. military once housed a Nike Hercules missile firing range. The site, which closed 30 years ago, is now part of the 6,500-acre Crocodile Lake refuge.
"Snakes like deep, dark places," Crocodile Lake manager Jeremy Dixon said.
Dixon said snakes also like black rats, which likely attracted them to the site. He said searchers using trackers and specially trained dogs sniffed out the snakes.
Scientists believe the snakes migrated from the Everglades and may be headed south, "where several Keys species are defenseless against the large, invasive reptiles." Dixon said the availability of food means the pythons could thrive in the Keys just as easily as they've multiplied in the Everglades.
For more than two decades, an array of big snakes have spread and bred in the Everglades. Their presence has had a devastating effect on native birds, deer, and other species in the park. Some snakes have even managed to devour alligators and deer.
The Florida Fish and Wildlife Conservation Commission is working with the University of Florida to detect and remove the snakes in the Keys. Irula tribesmen from India, renowned for their ability to catch snakes, also have been helping state and federal wildlife officials.