Smith & Wesson Model 57: A Diamond in the Rough
Dr. John Woods 02.14.17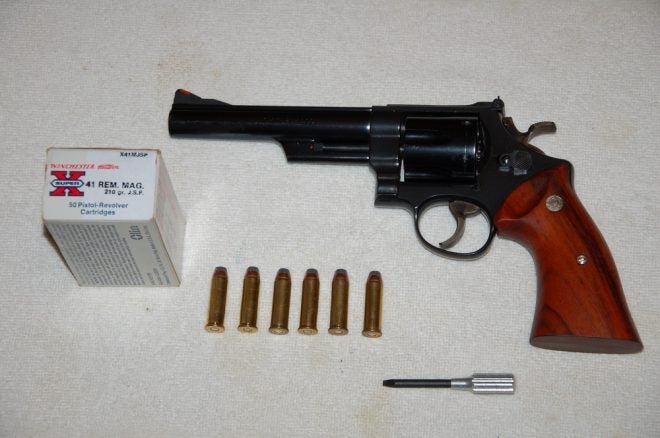 Older model handguns in really good condition are getting increasingly difficult to locate for collectors. This is especially true for fine collectable guns by Browning, Colt, Remington, Winchester, Savage, Smith and Wesson, and many others.
There are many avenues to locate specific firearms to add to a collection, to start one, or just to own some examples of the best of the best. Auctions are held all over the country that sell some of the most premium guns to be found for sale. On a local level, gun shows are a good way to search for prospects. One never knows what one will find at a gun show.
Recently I lucked upon a solo dealer with a table full of pretty collectable handguns, a few shotguns, and some nice old Winchesters. Of particular interest was a selection of Smith and Wessons. In particular he had several of the more hard to locate N-Frame revolvers.
As I scanned the collection, one stuck out above the rest. It was a pristine Model 57, .41 Magnum, 6-inch barrel in blued finish. These are exceedingly difficult to find in any condition and the 6-inch is especially hard to find. This one was in mint condition, though it had no original box, papers, or tools as they came from the factory.
This Model 57 was an older version because it had the original pinned barrel and the cylinder was recessed or milled back from the star brass ejector. Also when opening and swinging out the cylinder the serial number stamped on the frame under the cylinder yoke had no "N" prefix, just the serial number. This gun needs further research.
The dealer's table price on the handgun was $1200. That is fairly high by Gun Value book price, but like I said, these guns are getting more difficult to find all the time. Many of these models of Smith's are priced high because the market can bear it. That is the reality of gun collecting these days. You play, or you get left sitting on the sidelines.
After a daylong negotiation, I finally badgered the dealer into a price range I could live with. We both laughed at how tough we were trading. Those days are just about gone, too. Gun dealers are like car dealers, take what I have or leave it. For once, I found a diamond in the rough at a gun show. But then, that's the fun of gun collecting.