HydraPak's Full Force: Pressurized Water on Demand
Russ Chastain 02.15.17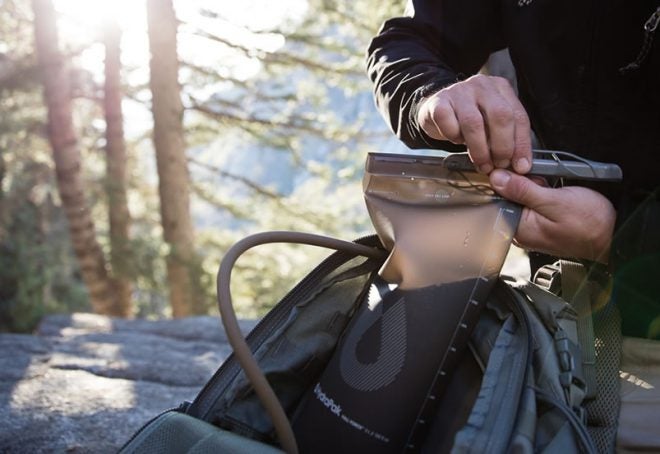 We all need water, right? I mean, it's the most important thing keeping us alive and kicking (and clean). Taking water into the great outdoors is important, but it can also be a hassle. And using it while you're there can be plumb aggravating.
So when I stopped by the HydraPak booth at the SHOT Show, I was impressed with the quality and practicality of their stuff, but what I liked best was the pressure-activated nozzle on the Full Force water bladder's Hydrant Tube. Need some water? Just grab the nozzle with one hand and squeeze. You can dispense water in a strong stream or a slow dribble, depending on your needs.
The Hydrant Tube kit comes with a squeeze bulb and pressure-activated valve for one-handed dispensing — spray to cool, clean, share, fill, or drink. Squeezing the rubber bulb opens the valve and depending on how much pressure you apply, can provide you with a powerful blast to clean items or a slow stream of hydration for a child or even a pet needing a drink.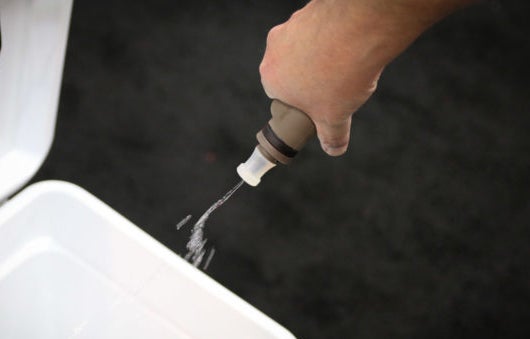 Field-dressing or skinning a deer in a remote place with no running water? This nozzle makes it possible to hose it down to wash out blood, bile, and other ick. Kids have sandy feet at the beach? Hose 'em off right before they hop in the minivan. Dog and boots get muddy while hiking? Rinse away the mud and crud at the end of a hard day. Use it to clean cuts and scrapes, or just rinse your mess kit after you wash it.
Because the valve is pressure-sensitive, you can dispense water slowly or quickly.


This setup comes in two versions: Full Force 2L and Full Force 3L, which hold 2 or 3 liters respectively. (The same Hydrant Tube is also available with the Trek Kit 3L.)
They apparently make their stuff tough; their website says it "meets US military standards for extreme durability and reliability." And they have a "Beyond Lifetime Guarantee," too:
If you experience any issue with the product's manufacturing or materials, we'll repair or replace the item for free. No questions asked. Whatever it takes for you to keep the adventure going.
The bladders that come with these kits are full reversible for cleaning and drying, top-shelf dishwasher safe, and can be frozen or filled with hot water (max 60C/140F). The hose can be quickly removed, and an auto shutoff prevents the bladder from leaking with the hose removed.


The top opens wide, which ought to make it easy to clean and fill.
Manufacturer Specs
Dust cover protects silicone bite valve from collecting dirt
Pack clip easily attaches to backpack straps for quick access and ideal routing
Wide Slide-Seal™ top makes it easy to fill and creates a leak-proof seal
Plug-N-Play™ connect system lets you easily disconnect the drink tube (an auto shutoff valve prevents leaking) and remove the reservoir from your pack for convenient refilling
Fully reversible for easy cleaning and drying, top-shelf dishwasher safe
Made of abrasion resistant TPU & RF welded seams for superior durability and elasticity
Can be frozen or filled with hot water (max temp 60° C / 140° F
100% BPA & PVC free
Material: Thermoplastic Polyurethane; HDPE; Silicone
Full Force 2L
Capacity: 2L / 70 fl oz
Weight: 204 g / 7.1 oz
Dimensions: 330 mm / 13 in x 165 mm / 6.5 in
Full Force 3L
Capacity: 3L / 100 fl oz
Weight: 250 g / 8.8 oz
Dimensions: 440 mm / 17 in x 165 mm / 6.5 in
What do you think? Worthwhile, or not?