BREAKING: If You Are in CA Get Your Go Bag Ready
Kevin Felts 02.20.17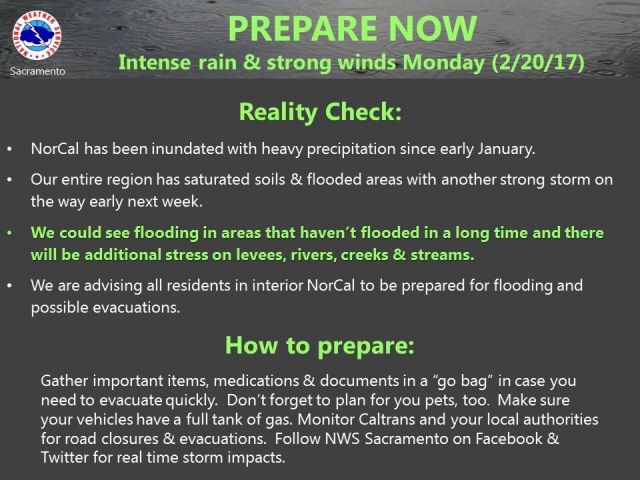 California is facing a weather pattern that historically has caused widespread flooding. According to the NWS, the wettest storm of the season is about to hit. Combined with up to 5 feet of snow in the Sierras, people in California are advised to be ready to leave their homes with just a 15 minute notice.
If you live in areas prone to flooding in California, call friends and family members outside the affected areas. Have a place to go and be ready to leave when authorities give the order to evacuate.
Present situation is very similar to those which have historically resulted in major levee failures in the Central Valley & Delta regions" https://t.co/c8LXiS41xl

— Eric Holthaus (@EricHolthaus) February 19, 2017
If you are in northern or central California, listen up. If you aren't, call/text/tweet/snap your friends/family who are. This is big. https://t.co/ePFroVQrrS

— Eric Holthaus (@EricHolthaus) February 20, 2017
Atmospheric river to unleash wettest storm of the season in SF, huge snowfall in Sierras (up to 5 ft.) Major flood threat after recent rain pic.twitter.com/NegRHs0KWc

— Jon Passantino (@passantino) February 20, 2017
Have Essentials Ready to Go
Have a go bag or bug out bag ready and loaded with essentials such as clothes, medicines, and copies of important papers.
Make sure the vehicle is fueled up and ready to go. Check the oil, water, and tire pressure.
Have spare clothes, family pictures, and pets ready to evacuate.
Put together snacks and bottled water.
Cellphone networks may become overloaded. Have email addresses or other means of communication with friends and family members.
Rather than calling every family member and giving them updates, have a friend or family member you will report to. The person should be outside the affected zone and will let everyone else know what is happening.
Let family members and friends know where you plan on going.
Include blankets and pillows.
Have a current road map in the vehicle.
Have alternative routes just in case the roads become blocked.
Bring toilet paper, hand sanitizer and hand soap. While on the road rest areas will probably be out of those items.
Stay tuned to the local news.