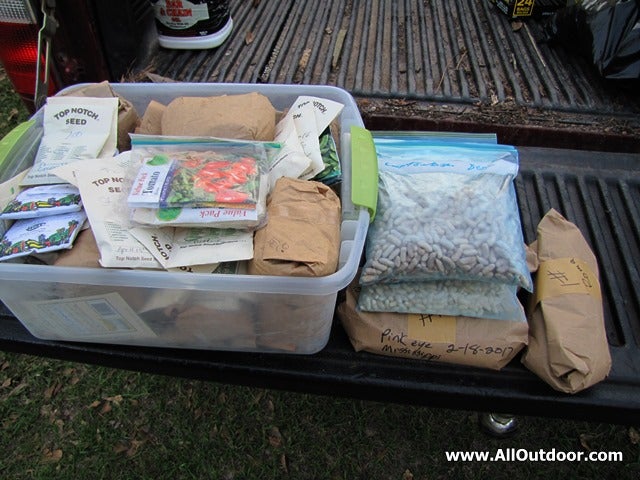 Several years ago I decided to start a seed stockpile. One spring, I went into a local farm supply store to buy some seeds. The lady that was getting my seeds said they were unable to get any pickling cucumber seeds.
We talked for a few minutes and she told me that from time to time there were shortages on the small store local level. The big corporate farms got their seeds first. Whatever was left would go to farm supply stores all over the nation.
Buying Seeds
In early spring, big-box marts will start getting their seed packets in stock. Rather than buying from a large commercial chain store, shop at a locally owned farm supply store.
Small locally owned stores depend on customers to keep the doors open. So chances are they are going to provide you with the best possible service. The people who operate the store are a knowledge base of local farming information.
Towards the end of summer, the big-box marts should put their seed packets on sale. That would be a good time to buy some. I buy the seed packets from the big stores, but only when they have gone on sale.
Storing Seeds
If you want to develop a seed stockpile, all you have to do is keep them in a deep freezer. For long term storage, seeds should be kept at least −0.4 °F and inside a vacuum sealed package. Kept like that, seeds should last hundreds, maybe even thousands of years.
An example of long term seed storage is the Svalbard Global Seed Vault. Seeds kept there are expected to last for hundreds, maybe even thousands of years.
I am happy with storing my seeds for maybe a decade or even just a few years. I leave my seeds in their original packaging and put them in the freezer. The packaging is usually a paper envelope or zip-lock baggies.
Organized Seed Stockpile
My personal seed stockpile has a wide range of spring and fall food crops.
Examples include:
Straightneck squash
Crookneck squash
Acorn squash
Zucchini
Spinach
Assorted beans and peas
Radishes
Turnip greens
Okra
Watermelon
Tomatoes
Assorted varieties of corn
Cabbage
Cucumbers
With time, buying seeds becomes a hobby.  When stores get seeds in stock, I look through them for anything new or different.