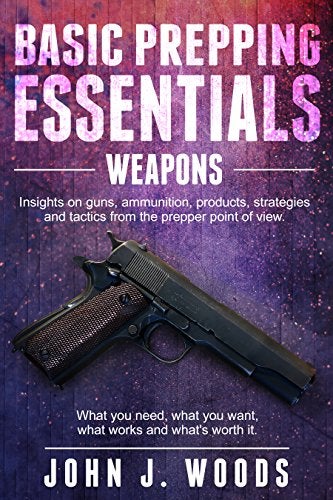 What it is they say on radio, "Time to take a break for a crass commercial message?" Well, this is not really that. For nearly two years now or about that, this author has been writing material for AllOutdoor.com, its readership, and audiences. The topics of all those pieces have covered a big part of the waterfront for prepping and the survival movement, but are far from complete.
Some time ago I was approached by an outside group called Permuted Press and their subsidiary Winlock Press to compile a selection of my AO articles to be assembled into a book. After reviewing all the material I had completed, we began to categorize them into book titles with the help of their excellent review editor, Monique Happy out of California.
The first issue is Basic Prepping Essentials-Weapons. Preppers are keenly interested in guns and everything to do with them, so this first edition was an easy choice among the material finished.
Jon Stokes, editor at Alloutdoor.com was gracious enough, as was AO, to allow me to glean my materials to put into an initial compiled book edition. Now AO readers can review again these vital subjects and have the material available as ready references for the future.
So, this edition is available now as an e-book via Amazon with the hopes maybe one day it will see actual print as a paperback. The contents are highly diverse yet focused solely on weapons and related issues. The book contains nine chapters and 116 separate articles.
The chapters include (1) Gun Reviews, (2) Prepper Ammo and Cartridges, (3) AR Rifle Accessories and Strategies, (4) Shooting Gear and Tactics, (5) Handgun Accessories, Gear and Tactics, (6) Prepper Firearms and Support Gear, (7) Prepper Gear, (8) Prepper Strategies, and (9) Gun and Gear Maintenance. Much of the information in these articles are intended for the beginner to mid-range prepper and interested survivalists. All of it is basic, practical, and useful material.
Honestly, this is a work of labor and love. I have no plans for a deposit on a condo in Gulf Shores or Gatlinburg, since both locations are prone to SHTF events. I see no Pulitzer here, but just the joy and job of writing and sharing what I know with others. If these materials help you prep or indeed to survive, then that will have been an ample return on my investment of time and effort. As they say in the French bistros, "Enjoy!"