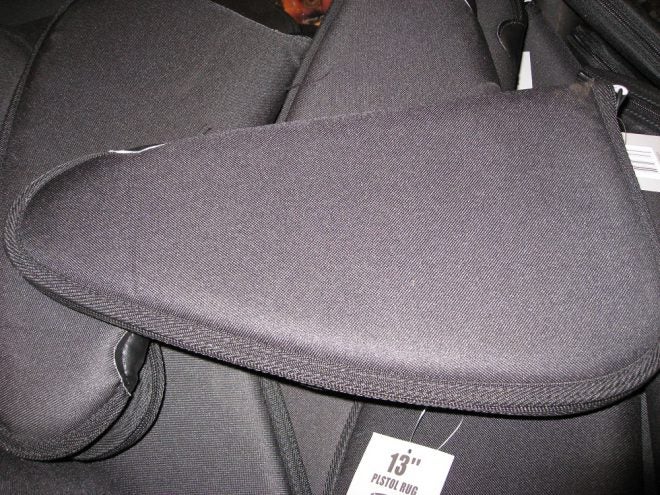 So, you just bought a new handgun. It set you back several hundred dollars and you are proud as heck to have finally bought just what you wanted. Now, you are going to toss it under the truck seat, or in the ATV tool box, or in a drawer somewhere in the house? Shame on you.
Handguns are a significant investment these days. Their ownership demands care and maintenance to keep them in peak operating condition. Like any other tool such as a good hammer or a set of mechanic's wrenches, when they are needed to work, you don't want to pull them out to find them rusted and ruined.
One useful way to keep a handgun safe and sound until needed is to put them in a high quality handgun rug. Rug? Well, case then, whatever. Something that is padded, zipper closed with an easy grab and carry handle sewn right into or on the bag.
I hear the grumbling now that putting a pistol in a rug is going to result in moisture building up and thus rusting the gun. I will say, after storing handguns in various types of rugs over time that I avoid leather or suede materials, especially with a fake lamb's wool liner. I use these for day carry but not long term storage. Actually no pistol rug is intended for long term storage.
The best type of pistol rug has to be well padded on both sides. Those made of heavy duty, super tough nylon materials will withstand abuse, wear, mud, and about anything short of a tank driving over it. The inside should be nylon, too. Pick models with heavy duty zippers that zip up from both ends, join together to lock, or a single zipper that can be locked to a metal or sewn on loop on the end.
Some deluxe pistol cases include nylon elastic loops inside for holding extra magazines or other small items in place. Other case designs can hold two handguns with a liner section in between the two pouches. These can be heavy though and somewhat more awkward to handle.
One trick to storing a gun in a rug is to include a pack of moisture guard inside the case. Then check them regularly to wipe the guns down with a good oiled cloth to deter rust. Get a good gun rug and it will protect your investment.