Basic Essential Series-Carabiners, Gear Ties, and Cable Ties
Dr. John Woods 02.27.17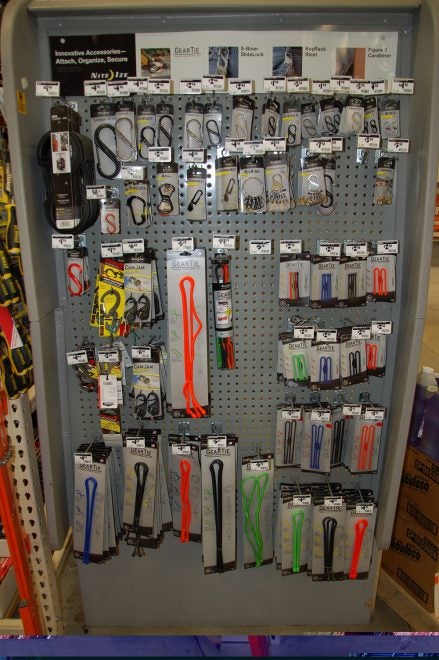 Preppers and survivalists have a need to tie together a lot of gear items or lash them together for hanging, storage, or transportation. Where we used to tie stuff together with random pieces of string or rope or tape, now there are much better devices and hardware supplies to easily handle these jobs.
If you look around my storage garage on the wall mounted sheets of peg board, you will see a whole selection of devices used to hang stuff, tie stuff together, and keep things safely wrapped up and protected. I use all kinds of carabiners, gear ties, and cable ties.
Carabiners are available that are useful for using as hooks to hang stuff. These are not official climbing carabiners and should not be used as such. These come in virtually every size, type, and color if you want to classify different like items. Heavy duty carabiners come with screw down locks to keep the opening lever from popping open. If you have items to maintain security then use a locking carabiner.
Other carabiner type hardware pieces have a simple pop open lever that just fits in place. These have tons of uses too including lashing items to backpacks, jean belt loops, and any other available loops for attachment. There are also big plastic carabiners for a multitude of uses.
Gear ties can be wire twisting straps or a lashing strap that loops around an item then the ends snap or lock together or twist into locking slots. Some of these have handy handles on them to be grabbed for easy transport to the vehicle or work site. I use these to lash together multiple electric extension cords for hanging storage or many other uses.
Everybody uses pull tight cable ties, lockable, and release type. These are about as universal a use-all, solve all, and multi-purpose item as can be. Their uses are endless and are effective for not only tying stuff together, but for holding wires or cables in place, fixing all sorts of things, and using as loops to grab. I have them on outdoor cooking utensils and even created handles for zip drives.
Cable ties come in many sizes, lengths, and strengths. They are available in a wide selection of colors to hide them or make them show up in the dark. Preppers should have a wide selection of all these items at hand.