Deal Alert: AR-15 Lowers And Lower Parts
Kevin Felts 03.07.17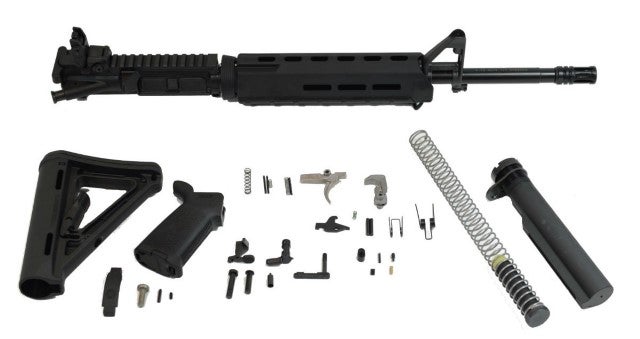 Interested in building your first AR-15, but not sure where to start? Let's start by looking for quality parts at a good price. In this case we are going to Palmetto State Armory (PSA).
PSA is able to offer great prices by cutting out the middle man. They are one of the few companies that deal straight to the consumer. If something goes wrong, you deal directly with PSA and not a retailer.
I have built several rifles with PSA parts and have been very happy with the results.
Let's get onto the deals:
Regular price: $199.99, sale price: $139.99 – PALMETTO STATE ARMORY MAGPUL ACS-L LOWER BUILD KIT – BLACK. I have an ACS stock on my predator hunting rifle and love it. The stock has a latch that takes all of the slack out of the stock. There is also a small carry compartment for stuff like ear plugs.
Regular price: $299.00, sale price: $159.99 – PSA AR-15 COMPLETE LOWER MAGPUL MOE EDITION – FLAT DARK EARTH, NO MAGAZINE. For people who do not want to assemble the lower receiver, here is a complete lower with Magpul parts ready to go.
Regular price: $219.99, sale price: $139.99 – BLEM PSA COMPLETE MOE PISTOL LOWER RECEIVER, BLACK. Interested in an AR-15 pistol? Here is a complete lower ready to go.
Regular price: $719.99, sale price: $399.99 – PSA 16″ MIDLENGTH 5.56 NATO 1/7 NITRIDE MOE EPT RIFLE KIT & REAR MBUS. Complete upper receiver with lower parts kit. All you need is a lower receiver and you are ready to build. The midlength has less recoil than the M4 gas system.
Regular price: $199.99, sale price: $129.99 – PSA AR-15 COMPLETE BLEM LOWER – CLASSIC EDITION – NO MAGAZINE. Basic, no thrills, entry level AR-15 lower receiver.