Review: Honor Guard 9mm with Robar NP3 Finish
Jon Stokes 03.07.17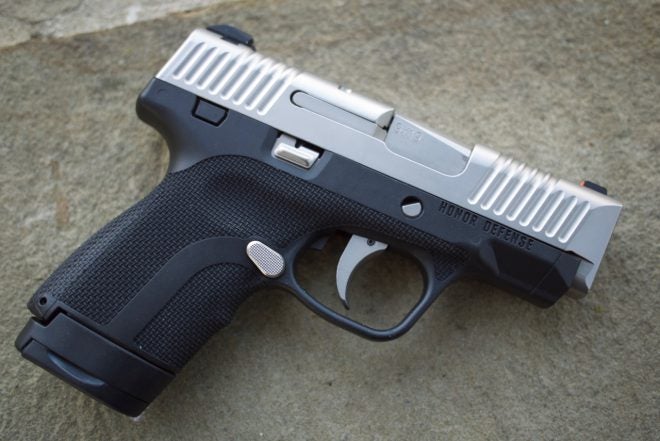 You know that feeling, when you walk into the gun store on your birthday, and the store happens to have both of the guns you've been pining for? It's bad news, especially when your wife told you "don't buy a gun!" right as you were leaving the house
In my case, the first gun was a Sig P239 Gen 2 SAS, and the second was a $450 Honor Guard from Honor Defense, both of them single-stack 9mm carry guns.
I agonized for a bit, but I knew from the first moment that I was going to walk out with both of them. And so it was.
Five months later, I don't regret a thing, as these are both fantastic firearms that I've extremely pleased with. I'll talk about the Sig another day, because right now I want to focus on the Honor Guard. And not just any Honor Guard, but my Honor Guard, which the guys at Robar Guns have kindly dialed all the way up to 11. Go ahead and take a moment to look and drool. The pictures don't do it justice. The Roguard NP3 finish really is that amazing.
Robar NP3
Before I get into the pistol, I want to take a moment to talk about the aftermarket coating. The gun ships from the factory with a standard oxide coating that's nice enough, but I'd read tons of praise for Robar's coatings on gun forums and wanted to experience it for myself, so I sent this gun in and had them apply their NP3 finish.
The pictures above speak for themselves. In person, the finish is gorgeous, durable, and extremely slick. It's a little bit of an issue on the slide, because you really have to get a firm grip on it to rack it, now. But the front and back serrations do help, and I have large hands so I tend not to have any problems racking this gun with that finish on it.
Here's how Robar describes their NP3 coating:
Robar's® NP3® finish is an electroless nickel-based finish for steel, stainless steel and aluminum alloys that co-deposits sub-micron particles of PTFE (polytetrafluoroethylene), otherwise known as Teflon™, with electroless nickel.

NP3 version 1 NP3® metal finish offers many benefits. NP3® permits firing for longer periods of time between cleaning, dirt and powder residue have no wet or oily surface to cling to. When cleaning is required, the effort needed is minimal – usually requiring only a soft cloth. NP3® is very corrosion resistant. It provides a high lubricity and low friction co-efficient, greatly increasing the life expectancy of a firearm due to reduced friction wear. NP3® is a satin gray, non-reflective color ideal for all firearms.

NP3® can be plated to all internal parts giving smoothness to the action not found with any other coating. In cases where the NP3® has been perforated, the corrosion shows no tendency to spread or migrate under the coating. NP3® also carries a lifetime warranty.
Here's an abbreviated version of the list of benefits:
Increases reliability
It requires little to no oil for lubrication, although we recommend using some oil during break in.
Very accurate and even coatings on all activated surfaces.
Cleaning is minimal
Permits firing for longer periods of time between cleaning, as dirt and powder residue has no wet or oily surface to cling to.
NP3® is very corrosion resistant, a 1 mil (.001) coating exceeding a 250 hour salt spray test.
NP3® has a high lubricity and low friction co-efficient; therefore, the life expectancy of a firearm will be greatly increased due to reduced friction wear.
NP3® plated onto stainless steel guns will prevent galling, a problem common with stainless steel.
NP3® can be plated to all internal parts giving a smoothness to the action not found with any other coating.
NP3® is guaranteed against corrosion, peeling, or flaking for the lifetime of the firearm.
You can see from the photos that Robar coated all of the metal parts of the gun–the barrel, slide, internals, controls, and trigger. They also coat magazines with the stuff, but in this case they only did my gun.
The results are phenomenal. The coating is flawless, and the gun cycles and shoots incredibly smoothly. It's also quite comfortable against the skin if you're carrying, and you don't have to worry about the salt from your sweat messing up the finish.
I've already decided that this is going on all of my firearm internals, at some point or another. I'm going to work my way through my pistols and move up to my ARs.
The price for the NP3 treatment on the gun is a little under $200.00.
Honor Guard Features and Functions
Unless you've been living under a rock or you don't follow the gun scene at all, you've heard of the Honor Guard. This is an American-made (actually, veteran-made) single stack, polymer-framed, striker-fired 9mm pistol in the $400 range that boasts a number of features found on more expensive guns.
There has been a fair amount of hype around the Honor Guard, to the point that there's also some backlash. The backlash mostly comes in two flavors: 1) why are the words "HONOR GUARD" etched on the left side of the pistol large enough for a blind person to read them?, and 2) *yawn* another plastic single-stack 9-mil.
Regarding the former criticism, I actually agree. They need to dial the branding way back, because that giant engraving is just too much. But the branding is pretty much the only thing I'd change about this gun, which brings me to objection #2: gun writers are gassed about the Honor Guard because it brings a lot to the table, especially for its price range. It's also a great shooter, but more on that later.
The Honor Guard I'm using is the compact model with the 3.2-inch barrel and no external safety. All the parts are actually stainless steel except for the frame, which is polymer and has a really great weave texture across most of its surface that's comfortable and grippy without being abrasive. I actually like the Honor Guard's texture better than any other pistol I've handled.
The pistol ships with a second, slightly larger backstrap, which is easy to change out. The package also includes two mags, one 7-round that fits flush and another 8-round extended mag, along with a gun lock.
The included mags are so similar to M&P Shield mags that I've seen in some forums where people have accused Honor Defense of just taking Shield mags and remarking them with their own logo. The company's founder disputes this, and while I figure he's telling the truth I don't personally care one way or the other.
The upside of the guns similarity to the M&P Shield is that your holster options are greatly improved, although a number of holster makers now have offerings specifically for this gun.
As a sidebar, here's the owner's take on the "Honor Guard vs. Shield" debate, from the comments on the TFB review of this gun:
It will cost more than the Shield because it's a better pistol.
This pistol has the following features that the the Shield does not have:
– ambidextrous slide catch
– ambidextrous magazine release
– exchangeable back straps
– does not require tool or pulling trigger for disassembly
– stainless steel chassis ( author points out the similarity to a P320)
– custom serrations over the top
– custom texture for better grip
– stainless steel striker housing (not plastic)
– as for the trigger, the Shield is a long trigger pull compared to the Honor Guard
Holsters are available from Galco, Crossbreed, DeSantis, StealthGear and others
Lasers are available from Crimson Trace as well.
Hope that answers your question.
So yeah, the gun has a ton of features. The modular, Sig-P320-style chassis that hosts the serial number is particularly awesome. Now that Honor Defense has come out with a long slide version, I can actually upgrade this gun to a long slide without going through an FFL. Just buy the new slide and frame online, pull out the chassis, and drop it in the new frame. It Just Works(TM), and you don't have to be a gunsmith or have special tools to do it.
The Honor Guard ships with metallic three-dot sights that are identical to Glock 43 sights, so any aftermarket Glock 43 sight will work on this gun. I like the included sights well enough, but I do plan to upgrade to some night sights.
As I mentioned above in the NP3 section, the stainless slide has front and back serrations for ease of racking.
The gun field strips easily without needing a trigger pull and can be easily reassembled.
Speaking of the trigger, Honor Defense advertises it as a 6.5-lb pull, but my measurement puts it right at 7lbs. So it's stiff, but not too stiff.
This is one place where the Robar NP3 shines, though, because the trigger pull is now silky smooth and feels amazing for a striker-fired gun.
Range Testing and Carrying
When I first shot this gun at SHOT's Range Day in Vegas back in January of 2016, it was the first single-stack 9 that I could really hit with naturally and effortlessly. I knew from those first few shots I'd be buying one, eventually.
I'm fortunate enough to live on some land where I can have my own backyard range, so when I say I've "tested" this gun it means that over the past 5 months I go out back and shoot with it. Sometimes I shoot a few times a week when I'm on a tear, and sometimes I go two weeks without shooting. My point is that I haven't so much "tested" this gun as I've lived with it, shot it, and carried it, because it's my gun and I don't have to send it back.
As all of the other reviewers of this gun have reported, this is an accurate little carry gun. My groups at 7 yards are around 3 inches, which is great for me. (No, I'm not going to win any IDPA competitions any time soon.) I actually handed this gun to a friend of mine who was visiting and had never shot a pistol before, and his groups were almost as good as mine. I was sort of mildly embarrassed by this, to be honest, but whatever. This is just a great little gun, and people who shoot it like and hit things with it.
The stiff dual recoil springs mean that recoil is minimal, and muzzle flip is also minimal. It's easy to stay on target with this gun.
I've run a variety of loads through it–everything from aluminum-cased Wal-Mart ammo to bulk pack FMJ to Federal HST (my carry ammo)–and have yet to have a single failure of any kind. This was true before the Roguard NP3, and it's true after.
The gun is rated for +P, but I haven't shot any +P loads with it.
In all, I love to shoot this gun, especially after the Robar upgrade. The trigger is really smooth, with no creep and a clean break. The gun also cycles very smoothly, and the whole experience just screams "quality."
The Honor Guard is relatively light and comfortable to carry. I carry this with a Clip Draw attached the slide IWB in the 4:30 position. At some point I'll pick up a trigger guard holster and carry it AIWB. It's very comfortable, and the NP3 is great for holsterless carry like this. It feels good against my skin, and I don't have to worry about any oils or salt or grime messing up the finish.
Basically the combo of the Honor Guard, the Roguard NP3, and the Clip Draw makes for the ultimate IWB summer carry package. It's very easy to conceal this rig under a t-shirt and jeans, and I can just grab it, tuck it, and go without monkeying around with an IWB holster.
Conclusions
I read a number of reviews of this gun before buying it, and I've yet to read a negative one. For whatever reason, this gun just has whatever that thing is that makes it greater than its spec sheet would indicate. I've had a few friends and neighbors shoot it, and everyone loves it. It's hard to explain what it is about this gun that sets it apart and makes it so appealing, but for whatever reason I just love it, and I'm not alone.
As for the Robar NP3 finish, holy cow. Comfort, lubricity, quality, aesthetics, durability–this finish has it all. As with the Honor Guard, you're not going to read anything bad about this finish anywhere you look. I've yet to come across anyone who's unhappy with it.
I actually think Honor Defense should offer this finish as a factory option, this combo is that good. They could probably offer it cheaper than doing it aftermarket, because Robar wouldn't have to remove the factory finish first. They could just apply it directly to the unfinished parts from Honor Defense.
Pros
Great accuracy
Superior ergonomics
Low recoil
Low price
Modularity
Tons of features
Cons
That giant logo on the slide.