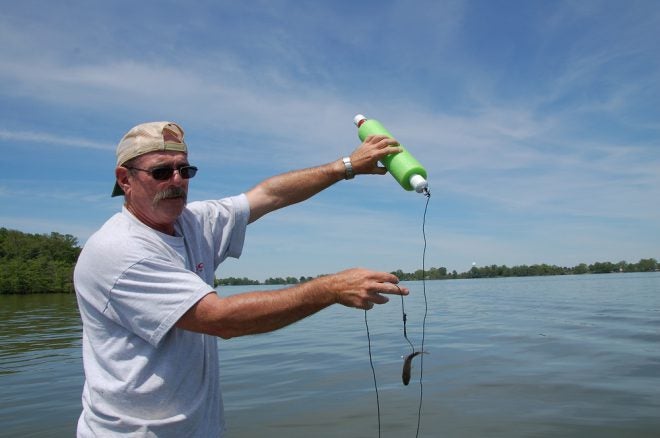 In the Deep South fried catfish is next to Godliness. Little else beats a platter of thinly sliced filets of catfish deep fried with a coating of golden brown cornmeal, some dill pickle and onion tartar sauce, a side of hand cut fried potatoes, and a big scoop of coleslaw with red cabbage and onion. Hungry yet?
So, how to catch catfish with noodles. You can buy already rigged out noodles at just about any big box fishing tackle outlet or you can easily fabricate them yourself. Go to the swimming pool or beach section of that same store looking for the long sticks of semi-hard foam tubes with a hole down the middle. They come in all kinds of colors, but the most visible for fishing purposes would be orange, lime, or chartreuse. Most of the foam sticks are about six feet long.
There are many different ways to build your own fishing floats or noodles. Check out a Google search and you will get plenty of instructional videos to show you how. This is a simple one. Cut the foam floats into one or two foot lengths depending on your preferences. Insert a piece of correct size PVC pipe down the center of the foam float and glue a cap on the end. Let the other end of the pipe extend out of the float by an inch or so. Some cap both ends.
Drill a hole across the end of the extended pipe or one capped end to attach an anchor line or the fishing line. Many cat anglers like to use a heavy duty fishing cord rather than traditional fishing line, so you choose. Depending on the depths you fish fashion the fishing line say three to ten feet in length. Affix your line weight and appropriate hook to this cord.
For storage or carrying in a boat, just wrap the line around the float and secure the hook into the foam to hold the wrap tight. When ready to fish, bait the hook and toss over. Then remain nearby to watch your floats for bobbing action indicating fish taking the bait.
Make yourself a retrieval pole of 10-12 feet with a hook on the end to grab up the floating noodle. Recover the fish, bait up and go again. If fishing at night or dim light, wrap reflective tape around the end that can be spotted with a flood light. You're good to go.