Maryland Anglers Ready to "Rock" for Striped Bass
Bob McNally 03.13.17

The 2017 spring season for Maryland's state fish, the striped bass, begins on tax day, April 15 in Maryland's portion of the Chesapeake Bay and its tidal tributaries.
Recreational fishing opportunities for rockfish–as striped bass are known there–will run from 5 a.m. April 15 through midnight May 15, with a catch limit of one fish per person, per day, 35 inches or larger.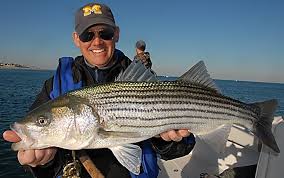 "Nothing says spring is here like the first day of trophy rockfish season," said Dave Blazer, of the Maryland Department of Natural Resources said. "For many Marylanders, it's a tradition that spans generations."
Regula, ions for the combined summer/fall season, running May 16 through Dec. 20, will remain the same as last year. Anglers can keep two fish per day greater than 20 inches, with one required to be less than 28 inches. Size is measured from the tip of the snout to the tip of the tail.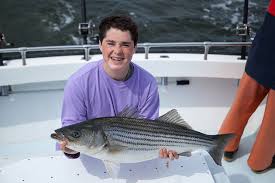 Striped bass fishing in the Atlantic Ocean and Maryland's coastal bays and tributaries is open year-round with a two-fish daily limit. Striped bass on the coast must be between 28 and 38 inches or larger than 44 inches.
Maryland reservoirs such as Triadelphia, Conowingo, Jennings Randolph, Liberty, Piney Run, Bradford Lake and Rocky Gorge are also open to fishing year-round with an 18-inch minimum size, two-fish per day possession limit, with only one of the two fish being longer than 30 inches.