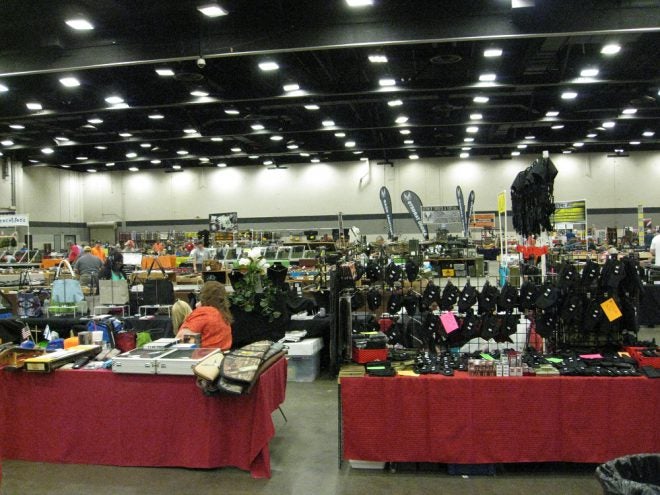 Assessing the past few gun shows in this area of the Deep South, it seems that sales have slowed, though show crowds are active. Talking to the dealers at shows as large as 500 display tables, the mood is cautious at best. This is an in between season, too early for sales related to hunting, which is a few months away yet. The startup of school takes family funds away from recreational expenses for items like guns and ammo.
Dealers continue to comment about the difficulties of acquiring stocks of popular models of guns. The dealer I work with has been unable to purchase any Glock 42 or 43, SCCY pistols, Ruger pistols, some Ruger .22 rifles, any less expensive AR models, small Smith and Wesson guns, and many other models. If you don't have the guns in stock that people want to buy, then sales are obviously lost.
In particular sales of bigger pistols like 1911s have slowed somewhat and sales of .40 caliber handguns are dead. Dealer commentary on the .40 Smith and Wesson is universally negative in terms of gun sales. There are few sales of big caliber revolvers either single or double action. Again, stocks of these types of guns seems to be minimal. I have not seen many new Smith and Wesson large caliber handguns for some time.
Conversely, there is demand for small pocket pistols of all kinds, either revolvers or semi-auto models. We get inquiries at every show for small frame .38 Special pocket revolvers, and some .380 ACP pistols. Mostly these are lady consumers wanting something to carry in a purse or coat pocket. Personal security and fear of an assault are still big issues with this audience.
Ammunition stocks seem to be pretty much available now, but the prices have recently taken a steep climb. Six months ago, a 1000 round box of 5.56/223 was selling for as reasonable a price as $325. This past show I did not see any such ammo under $400 for a thousand rounds with the highest price being $475 for a case of Federal ammo. Hunting ammunition continues to be expensive. A basic box of 20 rounds of 30-30 goes for nearly $20. Specialty ammo like Weatherby can be $100 a box of 20.
America's economy is still sluggish. The oil industry is down as is manufacturing. Personal discretionary income is flat. People are careful in their spending and supplies vary.