Muskie Restoration Working on Lake Champlain
Bob McNally 03.16.17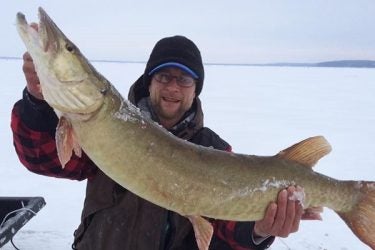 Ice fishing in northern Lake Champlain have shown Vermont Fish and Wildlife biologists that muskie stocking and restoration in the Missisquoi River have succeeded.
Vermont ice fishermen Ryan Carpentier and Gage Honsinger each caught mid-February muskies at two spots in Missisquoi Bay. Carpentier's muskie weighed 14-pounds and measured 38 inches. Honsinger's fish was released and not weighed, but measured 35 inches.
Although muskies have been caught from Champlain, fisheries scientists believe the two February catches show a positive thread from Vermont stocking of muskies, which has been on-going for nearly 10 years and is part of a long-term muskie restoration effort.
"Based on known age-at-length data, we estimate these two fish to be between six and eight years old," said Shawn Good, fisheries biologist with Vermont Fish and Wildlife who has led the muskie restoration program. "Given the age estimate and locations of these two catches in proximity to our muskie stocking sites, there is a strong likelihood that these fish are a product of our initial stocking efforts, which is incredibly encouraging and satisfying to see."
Muskie fishing on Lake Champlain has a long and rich history, but it declined beginning in the 1960s to the point that, by the 1980s following a waste-water mill spill, muskies were even believed to have become non-existent.
But over the last 10 years Vermont has stocked over 50,000 muskie fingerlings into the area, with now encouraging results in the species thriving again.
"Our goal is to return the species to Lake Champlain and reestablish its place in the fish community," said Good. "Muskie are an apex predator that once played an important role in the lake's aquatic ecosystem. It's really exciting to see these catches and gather more evidence that the stocked fish are succeeding."