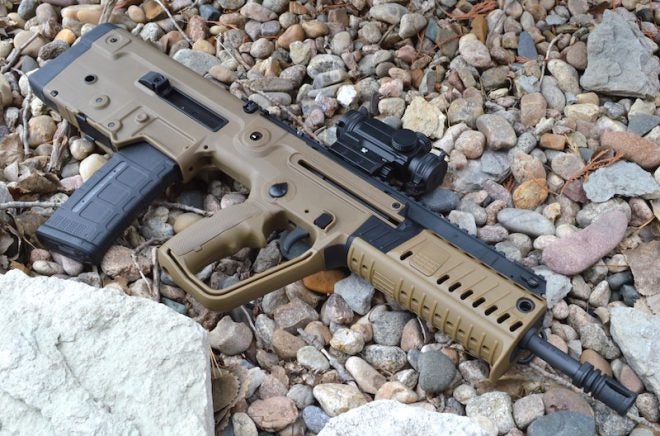 Red dot sights are great, but they're not all created equal. Until you have peered through a prismatic optical sight, you have not enjoyed the crystal-clear huge field of view that prismatics deliver.
Three Reasons to Own a Prism Optic
1) Your Eyes will Thank You 
The older you get, the more you can appreciate how an adjustable ocular will tune up that old eyesight to produce a crisp in-focus image downrange. Many people benefit from the ocular focus of a standard scope to make the target and reticle nice and sharp, but that feature also extends to unmagnified prismatic optics such as the Vortex Spitfire AR 1X Prism Scope.
The downside it that you cannot use a magnifier with prismatic optics. Well you can, but it is a nightmare.
2) The Reticle is Etched
One huge benefit to this design is that the reticle is actually etched (in black). So even if the illumination is off or the batteries are dead, the shooter still has a black reticle to use. Because of this, the reticle no longer has that splashy red dot effect. Instead, the shooter is greeted with a crisp, well-lit reticle regardless of illumination setting.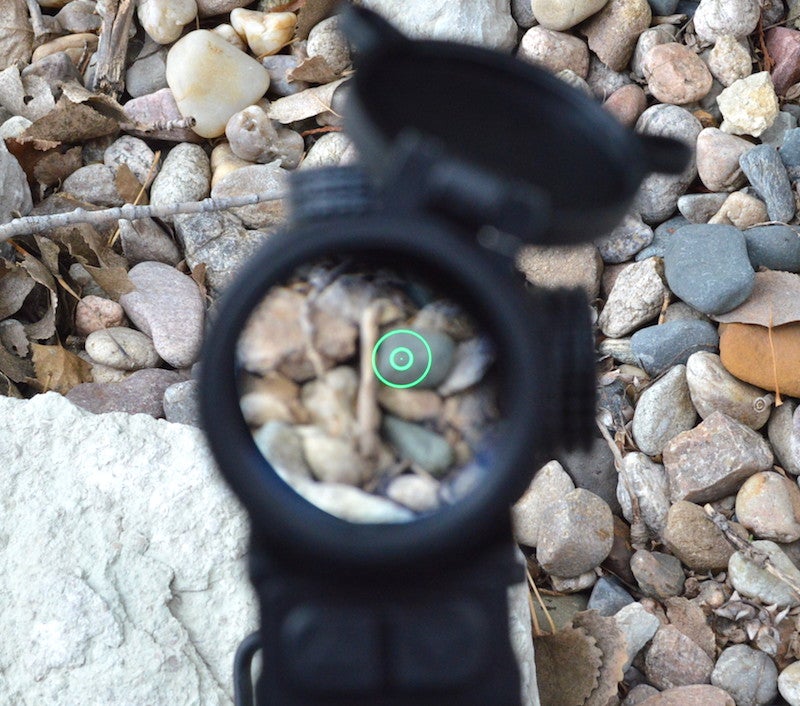 The Vortex Spitfire AR 1X Prism Scope has a dot and double circle for fast target acquisition. In the case of the Vortex Spitfire AR 1X Prism Scope, the shooter has the choice of an unilluminated black reticle or red or green illuminated reticle.
3) Enhanced Reticle Beyond a Dot
Since the reticle is etched, it can be anything. In other words, the manufacturer is not stuck with just a dot. Though red dots are all the rage, experienced shooters know that larger reticles mean faster aiming. The circle/donut and dot reticle has become known as one of the faster reticles since the human eye picks up the reticle faster.
Vortex has expanded this popular reticle design with a double-donut reticle and dot design, which they have called the DRT (Dual Ring Tactical). I am not sure it's a lot faster than a single donut, but it does seem faster to me. And it sure is easy to pick up with the eye.
This may be the only time in your life when extra donuts can make you faster!
Extra Features of the Vortex Spitfire Gen 2
The Vortex Spitfire AR 1X Prism Scope is more of a new optic than just an updated old version. Vortex still offers the first-generation 2032 model in 1X and 3X, and as on that model, shooters using the new sight can choose from un-illuminated black, or red or green illuminated reticles with just the push of a button, all with the same awesome double donut dot reticle.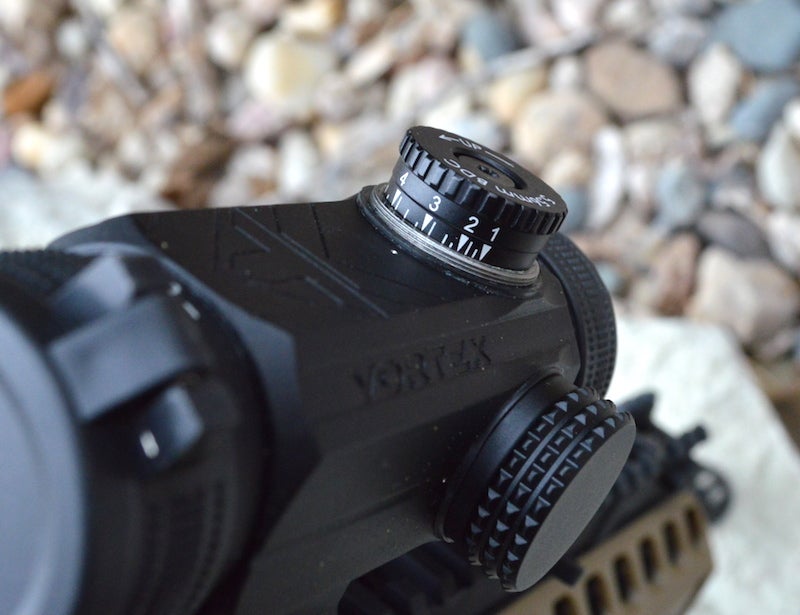 All the windage and elevation knobs feature waterproof caps and the ocular/focus can be adjusted, and the optic includes an integrated high quality picatinny AR sight height base.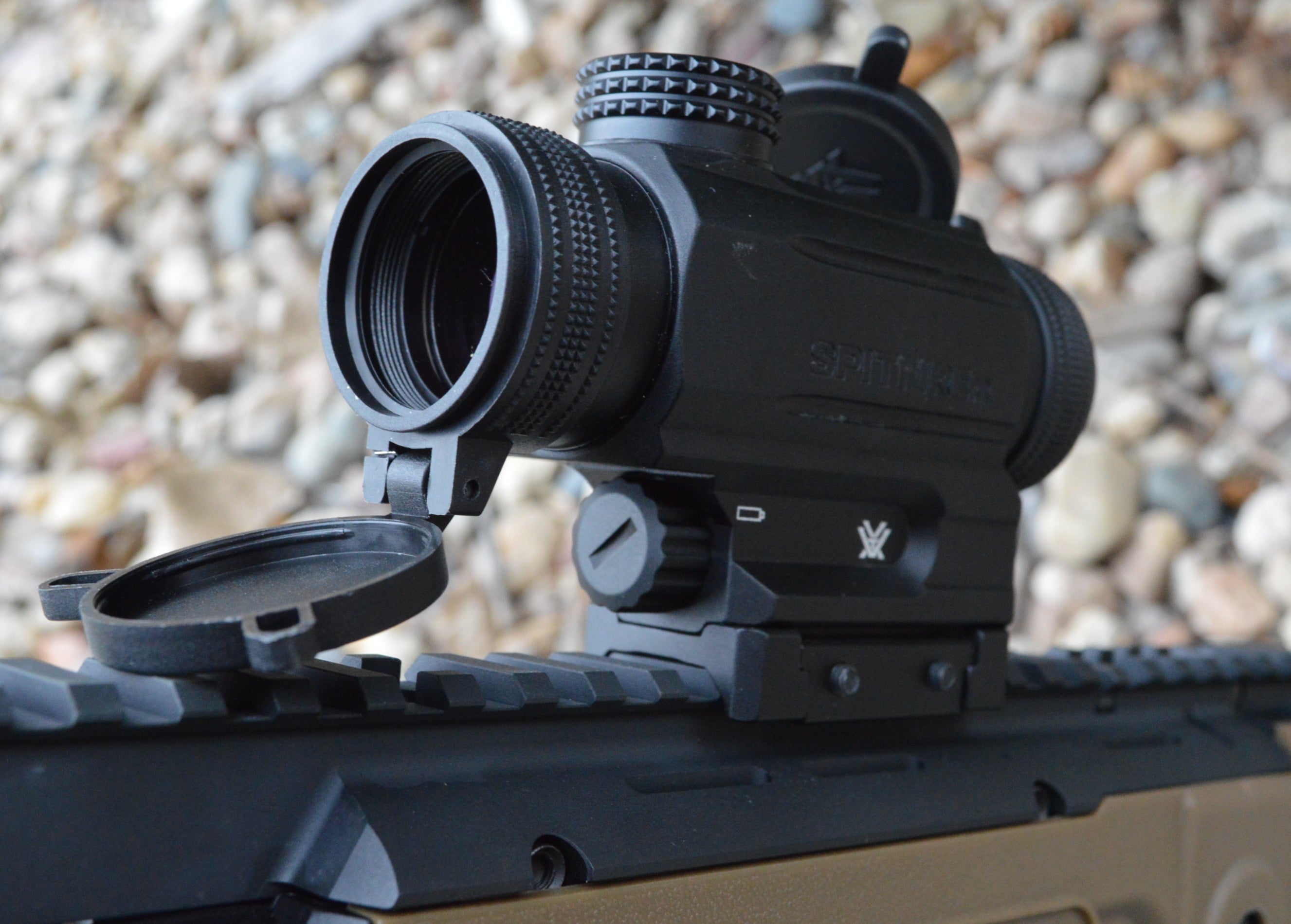 This scope improves upon previous Vortex Prism models with a little better field of view, a little more eye relief, slightly smaller size, forward mounted controls instead of a rotary switch, ½ MOA adjustments instead of 1 MOA, and it's powered by a single AAA battery.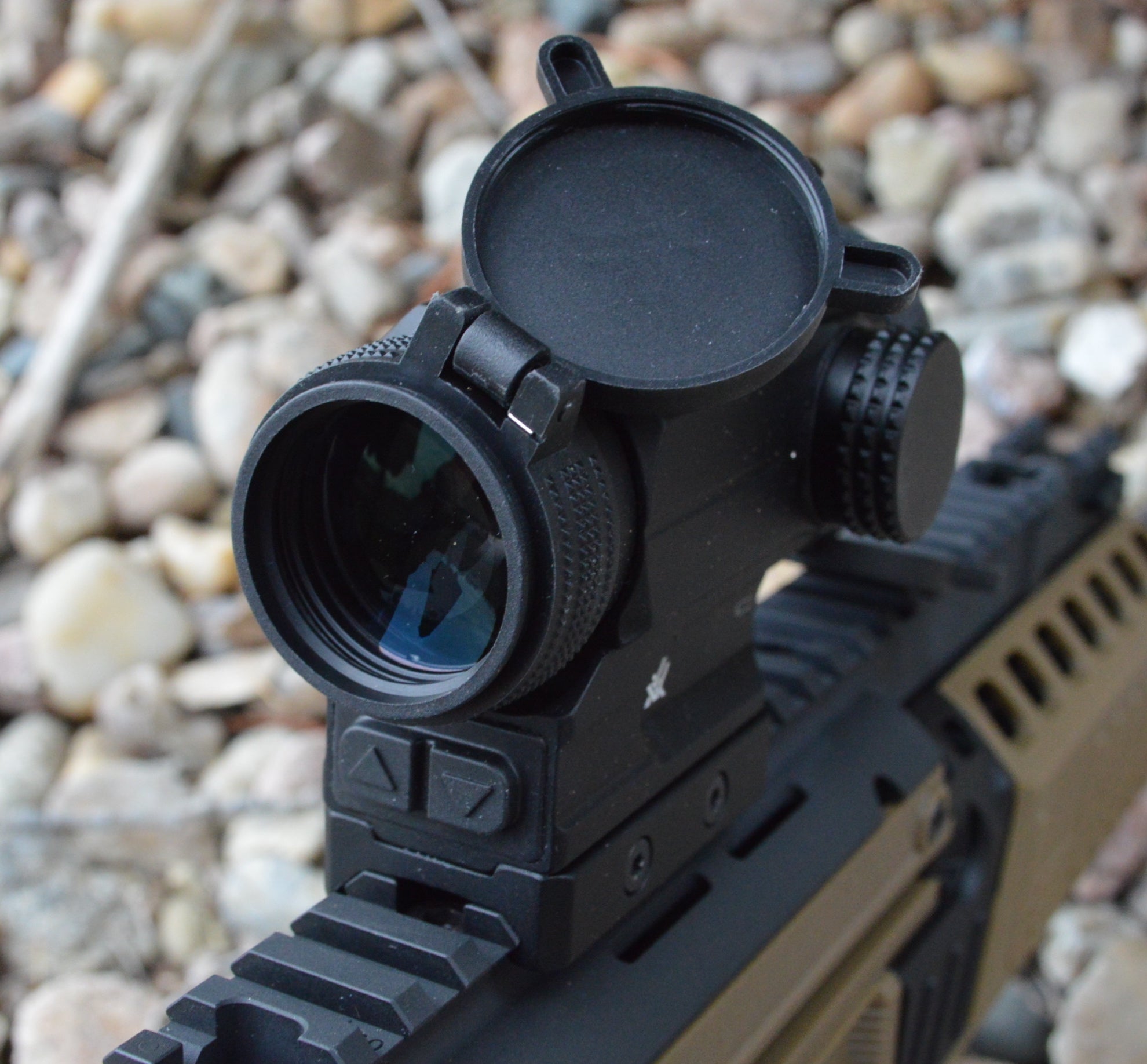 There is also an extra 55-grain 5.56 round BDC turret included, which can be swapped with the MOA elevation turret to provide precision long-range shots out to 700 yards.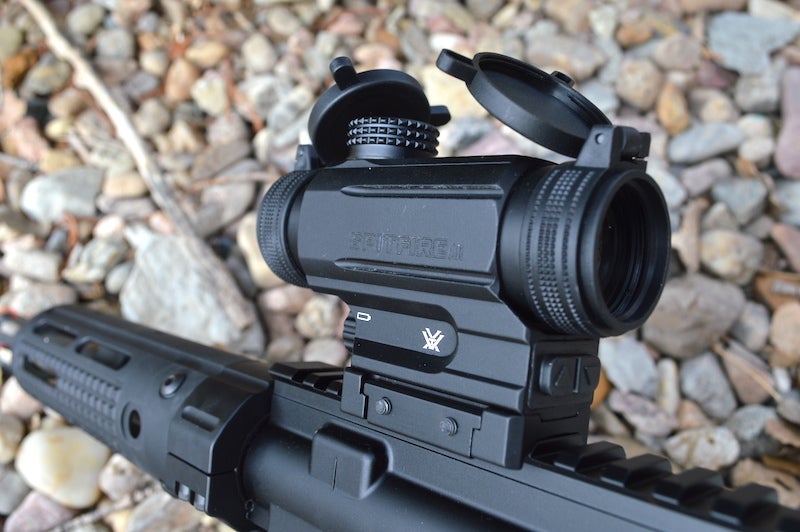 The Vortex Spitfire AR 1X Prism Scope also has a $349 MSRP, which is $50 lower than the previous model. Optics Planet street price is around $250, which is a great deal for this quality of optic. The only potential downside is that the new Vortex Spitfire AR 1X Prism Scope is fixed at a lower ⅓ co-witness height, versus the older model which allowed for a riser to be removed for an absolute co-witness mount.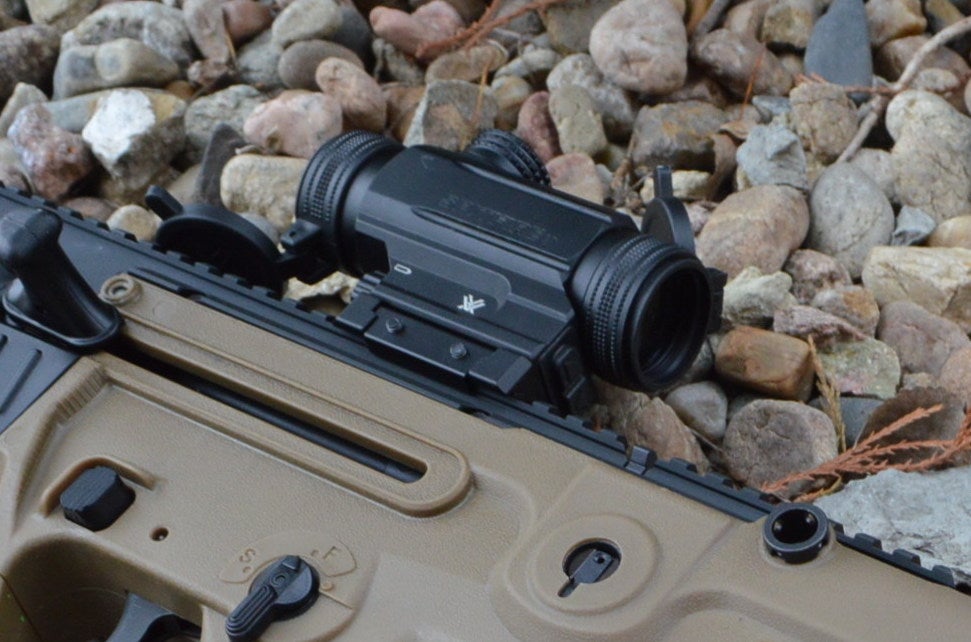 Final Thoughts
The Vortex Spitfire AR 1X Prism Scope was mounted and tested on both a IWI X95 5.56 rifle and an AR15 pistol. This optic performed quite well. Now that I am [cough] middle-aged, my eyes appreciate being able to tweak the focus just a tad for a crystal-clear image. This feature alone would drive me to replace every red dot I own.
Other features which add up to a more usable red dot include readily-available AAA power, a reticle which does not even need power, the fast DRT reticle design, increased field of view, and the included BDC turret. This package is tough to beat for $250.
From my perspective, prism-based optics are THE way to go with red dots. And if you use the code "MAJOR5," you can get 5% off your entire OpticsPlanet.com order of anything Optics Planet sells.
Manufacturer Specs
Fully Multi-Coated

Multiple anti-reflective coatings on all air-to-glass surfaces increase light transmission.

Prism-Based Design

offers sharp optics and allows for unique reticle designs that are visible with or without illumination.

Brightness Settings

Provides 12 variable illumination settings—adjusts for use in dim to bright lighting conditions.

Single-Piece Chassis

Compact and lightweight.

Nitrogen Gas

Nitrogen gas purging with o-rings-seals gives fog proof, water proof performance.

Waterproof

O-ring seals prevent moisture, dust and debris from penetrating for reliable performance in all environments.

Shockproof

Rugged construction withstands recoil and impact.

Hard Anodized Finish

Highly durable low-glare matte finish.

Operating Temperature

Rated from -22 degrees to +122 degrees Fahrenheit.

Comes mounted at a lower 1/3 co-witness height of 40.4 mm from the optic center to base surface.

Provides five levels of brightness intensity with red and green illumination settings.

Red/Green Reticle Option

Allows shooters a choice of dot color.

Battery Life

14-hour auto-shutdown feature maximizes battery life. Typical battery life is 250 hours at maximum brightness and 3,000 hours at minimum brightness setting.

Magnification

1 x

Objective Lens Diameter

25 mm

Eye Relief

3.8 inches

Field of View

79 feet/100 yards

Adjustment Graduation

1/2 MOA

Max Elevation Adjustment

120 MOA

Max Windage Adjustment

120 MOA

Parallax Setting

Parallax Free

Length

4.3 inches

Weight

11.2 ounces

MSRP – $349.99