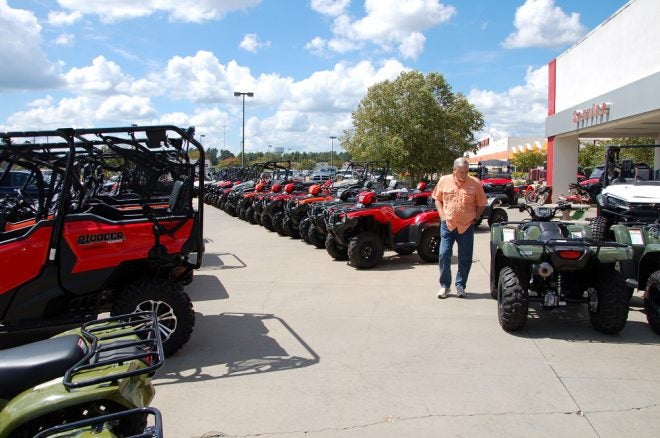 Right now is a great time to buy a new ATV or UTV. Whether you have a farm, ranch, construction business, or you hunt, fish, ride for recreation, there has never been a better time to purchase a new 4-wheeler than this month. Why?
The model year change is already underway and most all-terrain vehicle dealers have begun to receive the new 2017 models. This makes dealers eager to sell the existing stocks of 2016 rides they have on hand now. Some manufacturers are offering special pricing incentives or special interest rates for payment plans.
Just in the last month I was asked by a good friend Gary to help him examine a number of ATVs for possible purchase. He went into the plan thinking he wanted one particular model, but came away with a different version. I would like to think my own opinions helped him pick the right ATV for him. He is certainly happy with his new all-terrain ride.
In this case we ended up focusing on the 2016 Honda ATV line up. I have an older model 2000 Honda 450ES and have been exceedingly happy with this unit. It still has the original tires and brakes. All I have done to the unit is replace the oil and spark plug annually, cleaned the air filter, and had the machine gone over by a retired Honda mechanic. This unit is going on its third battery, but for sixteen years of use that is not too bad. I am sold on the ES, electric shift option.
So we visited the local ATV dealer with the reputation for making the best deals. He still had a good stock of 2016 machines in several sizes and categories. Right away you have to decide how big of a machine you want. This translates into engine (power) size, overall vehicle size and weight, and the operating options. These generally include manual shift, electric shift, or the newer automatic transmissions.
Power steering is now offered on many of these models. We drove one with PS and neither of us liked it. It was way too sensitive in the steering. I could easily see it oversteering out in the woods or forest trails. We liked a little more feel to the steering. You have to decide.
Gary ended up with a green 2016 500 ES. He had aftermarket racks added to the front and rear. Remember, cash always makes the deal sweeter.