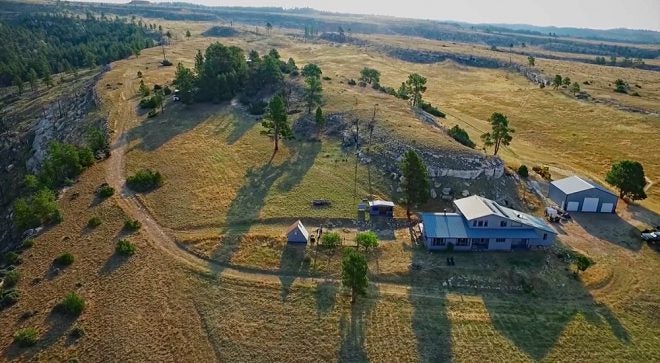 A fellow named Jake Libbey posted this video in Facebook, asking for help in selling his parents' superb home in Wyoming. His father is not well and needs to live closer to medical facilities, but finding a buyer for this unique place isn't easy. Maybe you know someone?
Here's the video caption:
Facebook friends, I need your help. My dad is almost 80 and stuck in a house up in the Bighorns of Wyoming. He needs to sell it to move someplace closer to a doctor, but can't because the real estate agents in his area just snap a pic and it just sits on the MLS for years and years and isn't ever actually marketed. I went there with my drone and camera and made him a video to help him sell it, but I really need some shares and maybe someone will be in a position to know someone who might be interested.

The website for the house is http://www.rockspringshouse.com

Please share if you would. And thank you.
The land and buildings look great, including the large house. Wild game animals abound. Plenty of room to land a plane or helicopter if that's an option for you.
If you want a place to live that's safe, secure, and you can see everything coming, Rock Springs is it.
Water? That flows from the mountain via gravity. They're connected with cell service, satellite TV, etc. Power? No problem; there's a 2.5-kilowatt system.
Been off the grid over 20 years, and it's a beautiful thing.
But in the owner's words, "We're just getting too damn old."
The 120-acre site is priced at $780,000 and if you compare that with what you can get in many urban areas for the same money, it seems like a bargain. Too bad I'll never have that kind of dough!
Take a look at this professionally-made video (and the website he created), which makes me REALLY want to move to Wyoming. And please share so we can help this family move on to their next phase of life–and so some fortunate prepper can have the sanctuary of his or her dreams.