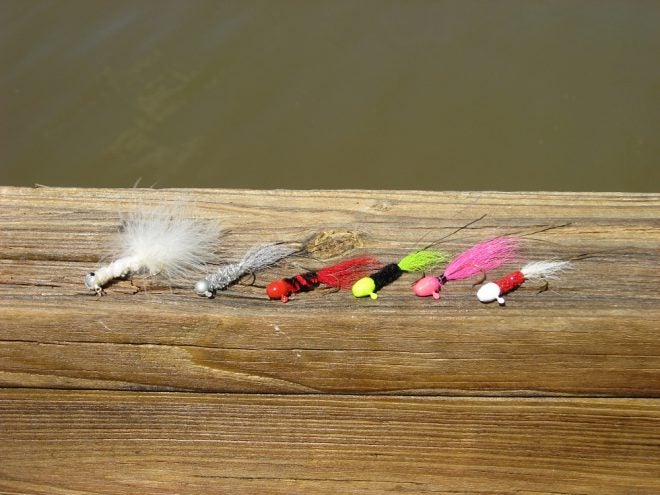 Fishing with crappie jigs is a science all its own. I learned more about fishing white perch with jigs last year than I ever thought I wanted to know. Jerry Gross from Arkansas is the owner of Meatgetter Jigs, an appropriate name for a fish lure company I thought. He and his wife sit for hours making up every kind, size, and color of crappie jig you can imagine. I never knew.
Jerry took me fishing last year on Lake Washington up in the Mississippi Delta south of Greenville. Turns out even by the recommendations of Field and Stream this lake is recognized nationally as one of the top crappie lakes in America. Now I know why.
Gross generally uses what is known today as a spider rig, meaning he has multiple fishing rods mounted in a rack holding bar all at the same time. He may be working as many as six or eight poles at any given time. On each line he has a double fishing rig using two jigs, one suspended above the other.
In these set ups Jerry will vary many options as to what size or color of jigs he uses. Once he gets an idea of what the fish are hitting then he will switch out all the lines to what the fish want. Naturally this often means that the fish will be biting on one or likely more different colors, so Jerry rigs out his lines accordingly. Obviously the idea is to catch as many as possible.
Now adding to the excitement and fun of fishing with 6-8 poles, 16-feet long, and often catching fish on multiple poles at the same time is adding the option of putting silver minnows in tandem behind each jig. Minnows of course add the dimension of live action on the line to attract the crappie to the bait.
As if this were not enough to contend with, Jerry's jigs also can have shiny spinners or other light reflective do-dads on the line as well. As you can imagine then, his rigs can be made up in an infinite number of combinations of jigs with multiple colors and sizes, spinner blades, and bangles, then a live minnow in tow.
So, what works best? Ironically it is the fish that reveals their own demise. If they bite a jig, then fish with jigs. Otherwise keep adding tackle options until the crappie start filling the cooler.