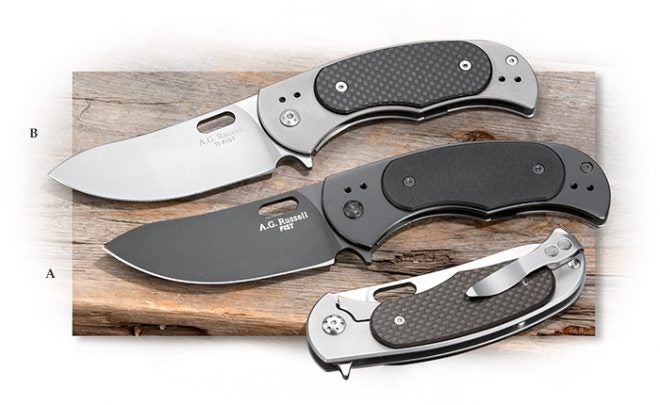 Okay so this is not really "one" but actually four to watch. And they all come from a single brand, AG Russell knives. I have stated this opinion before, but it is worth doing again: AG Russell is the single most underrated brand in the knife world (and he also happens to be one of the most underrated designers as well). I have reviewed many of their blades–the Skorpion, the Medium Barlow, the K12, and the Light'n Bug–and time and again they were all excellent blades. His emphasis on blade to handle ratios and simple, functional designs is a siren's song to me.
One thing most people overlook is the fact that even in his 7th decade of knife making AG continues to produce new designs. And while some of these new designs are distinctly situated in the traditional knife genre, AG is hip to what the kids are carrying. The Acies2 is an excellent rendition of the titanium framelock, for example. But his recent exclusives include not one, but four titanium framelock flippers.
The most recent is the Fist and Ti Fist.
These two blades are brothers–one more expensive than the other. Both run stubby semi-skinner blades with a thumb oval and a flipper. Both are framelocks, but the more expensive one is titanium. The titanium version also runs on bearings and has an upgraded D2 blade (compared to the 9Cr blade on the cheaper fist, though honestly, I am not sure D2 is all that much better than 9Cr). The budget version has a G10 overlay while the more expensive version runs carbon fiber. The high end version runs $125, and the cheap one is $80. They both basically the same weight with a .4 ounce difference in favor of the Ti-Fist. In a market where framelock flippers are king, these two stout blades with an unusual blade shape should stand out. And if any of my prior experiences with AG Russell knives are an indication both are very well made.
But that's not all, as they say on the infomercials. (What I wouldn't give for an AG Russell infomercial–him and Goldie behind a table, showing off knives, cutting brisket, and sharing folksy knife wisdom. It would be my like grandparent's kitchen.) The Honeycomb Framelock had titanium handles, a flipper, and 9Cr steel on a 3 5/8″ blade. It is a bit less portly than the Ti-Fist, coming in at 4.0 ounces even.  This knife shows off a bit of the machining ability of some of AG Russell's Chinese OEMs. Like just about everyone in the knife game now, AG Russell has come realize that there are same damn fine makers of cutlery in China. The Honeycomb runs $135.
The next knife, unoriginally called the Titanium Framelock, looks like a minimalist design taken straight from the Kizer catalog.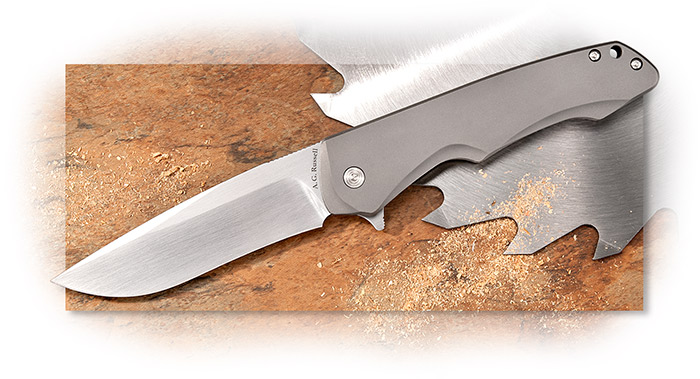 With its heavy chamfer around the handle and an angular handle shape, the knife has something of a modern look to it. It also has all of the modern features: a hardened steel insert to interface with the lockbar, a deep care clip, and a bearing pivot. But the real step up feature here is the hand rubbed blade. I can't think of another production knife that runs a hand rubbed blade. It's not a performance thing, but it is a nice touch, showing that this is a blade that at one point left the machine rack and encountered human hands. It weighs even less than the Ti-Fist and the Honeycomb, coming in at 3.6 ounces. And all of this is $115.
Finally there is the monster of the quartet the Simi Skinner.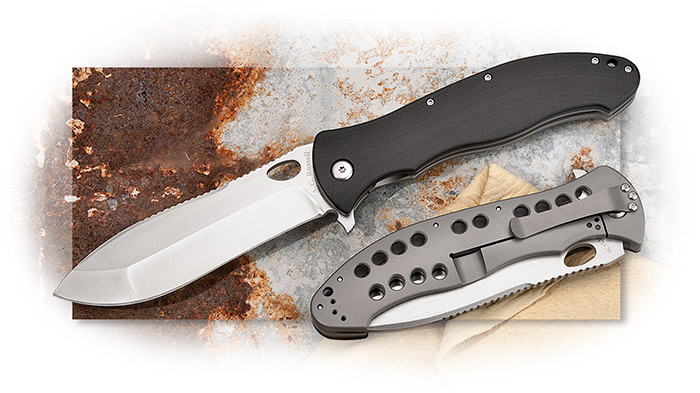 It is a 4 1/2″ blade of 9Cr steel with a G10/titanium handle. It tips the scales at a whopping 8 ounces, even with the bevy of lightening holes on the titanium lock side. There is a flipper and a thumb oval. The G10 is contoured for better grip. But the extra special touch here is again hard to find on production blades. This knife has something of a compound grind. The tip appears to be convex ground while the main cutting edge is hollow ground. This is a beast of a knife and despite AG's focus on traditional style pocket knives. He has a lot of experience with mammoth folders. His 2014 Texas Ranger King of the Woods design is a 4 3/4″ blade on a 8.3 ounce knife. He also makes a Dozier blade, the Combat Folder, with the same specs in a titanium framelock flipper form. If you want something a bit different than the norm, and it has to be a gorilla-sized flipper, the Simi Skinner fits the bill (as does the Combat Folder).
In all it is heartening to see that AG Russell is not just making good stuff, but also responding to the market quickly and effectively. Many bemoaned his switch to Chinese-produced blades a few years ago, but in the end, it has not just keep the brand going it has allowed them to pivot to meet the market quickly and produce a huge array of blades to suit just about every taste. These quartet of flippers show that AG still has the touch at both designing blades, like the Ti-Fist, and picking designs from OEMs that bring something different and special to his customers.
At an age when his contemporaries are shaking fists at "young'uns," AG is making knives for them. I hope that when I reach that age I am still has vital and as engaged in my chosen profession as he is.  We need to be appreciative of AG Russell. He makes knives no one else does and they all have a bit of style and a bit of utility to them. But there is always that little thing, that value added, whether it is the Light'n Bug's incredible weight or the hand rubbed blade on the Titanium Framelock or the compound grind on the Simi Skinner's blade, that shows that AG Russell really gets the knife game.
These four a further proof–AG Russell is the most underrated designer and brand in the knife business today.