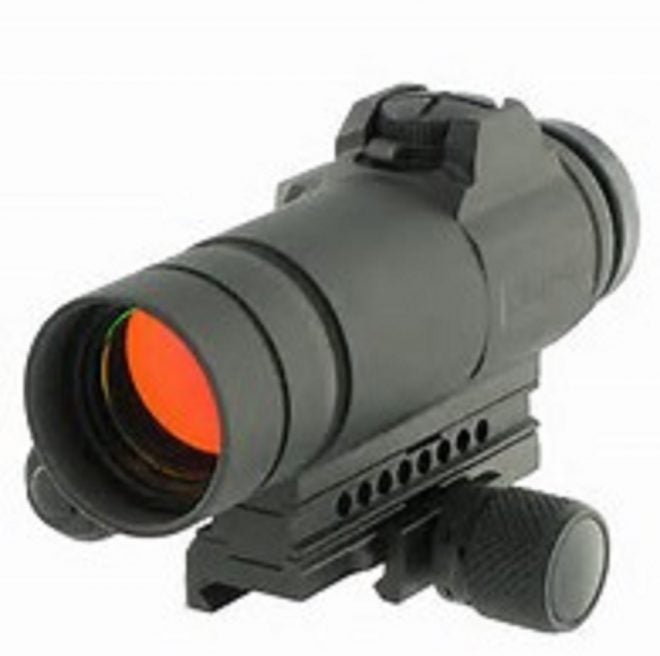 The United States Army has recently awarded the Aimpoint optics company a contract to supply 30,000 units of their M68 Close Combat Optics. Civilian shooters will know this same reflex sight as the Aimpoint CompM4s optic.
The military version M68CCO has been used by the U.S. Army and the U.S. Air Force for some time. It is a proven optic in battle and combat missions. Specifically the Aimpoint sight is being delivered to be fitted to all M16 rifles, M4 Carbines, and even the light machine guns including the M240 and M249. The sight has been noted for its near universal application to a wide range of military weapons.
The M68CCO will be equipped with the KillFlash® anti-reflection device, rubber lens covers, and adapters to be matched up with a wide variety of common arms used by numerous military units. The Aimpoint sight has been well proven in combat and especially close quarters work in clearing housing and building structures. The American Armed Forces have been using this Aimpoint sight since 1997.
The Aimpoint CompM4s profile includes a low battery compartment. The optical magnification is 1x with an aiming dot size of 2 MOA. The optics are fully multi-layer coated and anti-reflex as well as being night vision device compatible. Eye relief is unlimited. The sight uses AA sized batteries with 80,000 hours or roughly 8 years of battery life. Lithium battery use is highly recommended.
The M68CCO is 120 mm long or 4.75 inches long. Width is 72 mm or 2 13/16 inches. The sight weight is 9.4 ounces including the battery. The sight's housing material is high strength aluminum in a hard anodized black matte finish. Its temperature operational range is -49 degrees to 160 degrees Fahrenheit. It is operational in water up to a depth of 150 feet. The sight is also chemical resistant to hydraulic oil, lubricating oil, and fuels including diesel fuel as well as the usual cleaning solvents.
Other features include a mechanical switch for speed and reliability. Adjustment caps have been improved to be easier to remove and protected against impact. The mount base is keyed into the body of the sight to absorb recoil. The mount base screws directly into the sight so no separate sight ring is required.
Aimpoint is a Swedish owned company but has had an American presence for years in their Manassas, Virginia location. They manufacture various models of reflex sights for military, law enforcement applications, hunting, and all types of sport shooting. Additional information can be found at their web site at www.aimpoint.com.