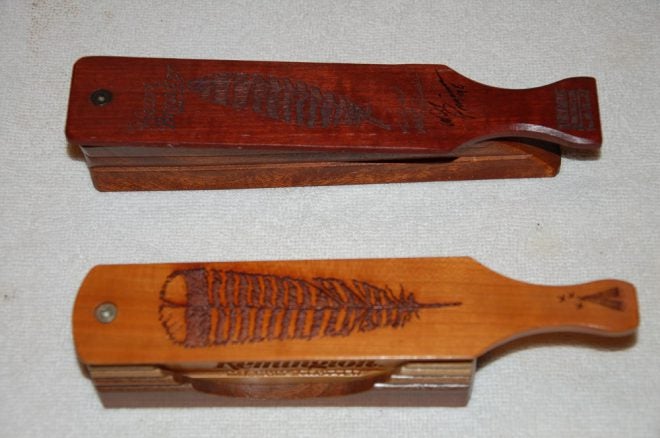 When I arrived in Mississippi in 1983 one of the first pieces of hunting equipment I bought was a Lynch box turkey call at Wal-Mart for less than $10. I still have it, and it still brings them in. I have added a couple of other box calls, too, a favorite being a Woods Wise waterproof box that will grind out perfect hen calls in a downpour, though I don't recommend those conditions.
Why a box call? I use all kinds of turkey calls even some mouth calls, but those are not my forte. I have some slate calls, too, and many others. The most used call I have in my turkey hunting carry bag is a box. For me at least it seems to do it all.
A good wooden chalked up box call can make every turkey hen call there is and the volume can be accordingly adjusted easily by the pressure the caller applies to the lid over the box chamber. It takes less practice to get good on a box call, too. When my daughter was but five or six, I would give her a box call and a couple quick lessons. Right then she could make pretty darn good clucks and yelps.
Initially I started using the box call by holding the box chamber in the left hand and using the right hand to strike the lid across the top. I worked the lid with the handle positioned at the bottom. Years later turkey expert Preston Pittman showed me how to reverse the hold on the call and work the lid from the top. I now position the lid handle between two fingers to strike the box.
With some practice in this manner, you can learn to really make precise calls with just slight pressure of the lid on the box. You can make them just barely able to be heard if a gobbler is close and gaining ground. Hen clucks made in this manner are sharp and crisp. Yelps are more easily controlled.
Another feature I like about a box call is the maximum sound volume achieved if the wind is blowing. Gobblers do not like high wind, but they will come to the edges of fields looking for hens. I have had gobblers jerk heads at 300 yards with a box blast. For me, a box call gets the job done.