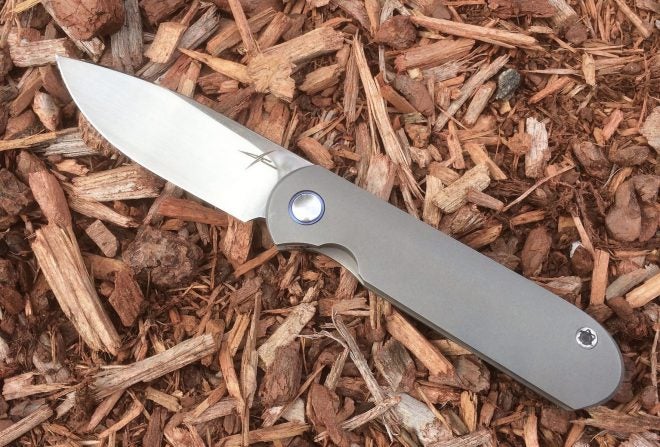 We all do it. We get a knife, we open it, we use it, we carry it, we cut some paper, and if it is a good knife, we really enjoy it. If you really, really like knives, it's what you do. But there is one other thing we knife knuts do with new blades: we also theory build a tweaked version. You sit there with the blade in your hand, enjoying it but also really wishing that this one little thing, this one bothersome design element or feature, was slightly different. It's why knife modders are so successful. It's also one reason some custom makers have such extensive conversations with their customers (in the event they are a maker that accepts input). In the end though, we just have to be satisfied with a knife, despite our wishes for a different blade steel or a handle shape.
So it was for me too, when I reviewed the Gareth Bull Shamwari on my personal site. I love that knife. The front flipper, once I got the technique down, was super fun and incredibly efficient. The clean, scoured look of the knife really appealed to me, and the fit and finish was quite good. Overall, it was a superb blade, nothing to complain about, but there are a few things I would tweak. Because, you know, us knife knuts are never completely satisfied. In my review I listed a few things I would do to the knife to make a superb knife my perfect folder, and I left it at that.
About a year and half later I got a message from Gareth. He indicated that the knife was ready. What knife? I didn't order a knife. He then told me that after the review he went to work tweeting the Shamwari to fit my exact specifications. I had no idea he was working on this project. I just threw those suggestions out as a lark. But when he sent me the images I realized that he didn't just tweak an already great knife, he rethought the entire thing from the ground up. The result was a knife that was build EXACTLY as I wished it had been.
But that wasn't all, the knife was reimagined in a way that took me by surprise. The Small Shamwari is a knife built around my input by a person that really knows how to make a knife. It wasn't a slapdash upgrade, this was a knife that showed off clever touches that exceeded even my silliest requests. I, of course, purchased the knife. He has since made batches of more Small Shamwaris.
Description
The Small Shamwari is a custom-made, titanium framelock flipper. It is a small folding knife, with a blade length of 2.75 inches. The blade is made of M390 steel with a satin finish on the grind and a mirror finish on the flats and the crowned (or rounded over) spine.
The pocket clip is a sculpted, deep carry, over the top pocket clip. The entire knife is put together with torx screws. The blade deploys via a front flipper, made possible by a slightly protruding rear tang with jimping on it. The pivot on the show side has a polished, domed screw head and a collar of blue anodized titanium. The pivot collar on the lock side is also blue and acts as a over travel for the lock bar. The handle is made of contoured titanium.
Testing
Since receiving the Small Shamwari in the fall of 2016 I carried this knife well more than 50% of the time. The knife's size and utility blade shape made it perfect for carry almost regardless of the circumstances. It works well with a suit or jeans. I did the usual array of EDC tasks–food prep, recycling, package opening, paper cutting, and fire prep. Coming to me just as fire season got into full swing, the Small Shamwari was just amazing. The M390 blade and the hollow grind did a lot to make the knife incredibly slicey. I didn't do any especially hard tasks with it (cutting frozen meat and chopping wood or bone), but given its size and intended role, I think the tasks I did do were pretty representative.
Design
The original Shamwari was a great knife–a clean, minimal alternative to the titanium framelock flippers that are coming in waves out of the custom world. The front flipper, in addition to providing a more sleek silhouette, is a superior deployment method. Snapping open as it does, the front flipper positions your hands almost exactly where they would be during cutting. It's a seamless process once you get your thumb used to the work.
Aside from the front flipper, there are a ton of tiny touches that make the Small Shamwari awesome, some of which Gareth implemented because of my suggestions. First, all of the hardware is standard Torx screws, so no funny driver needed. Gareth also crowned or rounded over the spine as I had hoped for when I wrote my review. He included a deep carry clip, but unlike what I had imagined, he completely changed the clip to something I would have never even conceived of.
This is a sculpted, deep carry clip that is attached with a blind screw (that is, the driver head is on the inside of the handle, meaning the maker attaches it without being able to see it, in theory). It sounds awesome and its implementation is just that–awesome. The handles are sculpted and the size is reduced to a perfect-for-EDC size of 2.75 inches.
Implementation
My Small Shamwari was a perfect knife. There were no issue with blade play, lock stick, blade centering, edge grind, main grind, or finish. The blade's contrast between mirrored and satin surfaces was nice, and the jimping for the front flipper, a crucial element, was perfect. I could not have asked for anything more on this knife.
Conclusion
Well, whaddya know, having a knife made to your exact specifications means that you will like it. In all honesty, I have hard time thinking of a person that likes knives that wouldn't at least appreciate the Small Shamwari. It's a steller pocket companion with a great deployment method and an unbelievably cool pocket clip. It's pricey, as it is a custom made knife, but batches start around $500. The newer versions run on bearings, though my washer-based pivot is pretty darn snappy.