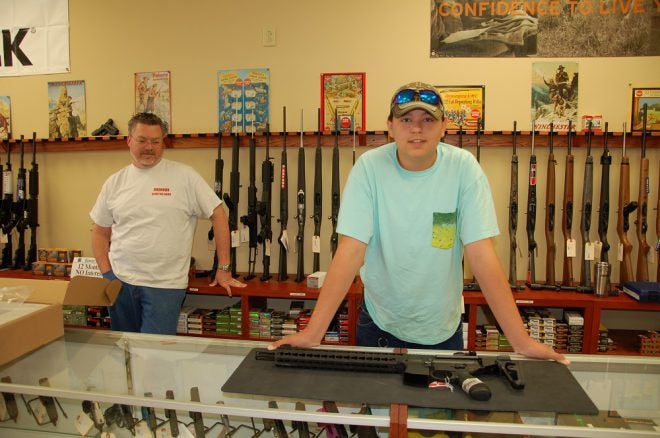 A recent CNN Money report tried to make a case for how the presidency of Donald Trump will eventually damage the firearms industry. Interviews were held with several corporate managers at various gun companies presumably at the SHOT Show range day from the appearance of the facility in the report. It appears they did not get the negative attitudes they were looking for.
Then the news video posted on line scanned various report statements across the screen trying to show that gun sales tanked in the last quarter of 2016. That was a curious statement given that BATF background checks for gun purchases broke all records in 2016, especially the final three months of the year prior to the election.
What is really happening in the marketplace? At the local level both small mom and pop gun dealers, gun show sales, and big box gun outlets have experienced a slowdown in buying traffic since the election. Why? Politics at its best. With Trump in office and having promised he would protect our 2nd Amendment rights, gun and ammo consumers are feeling like the pressure is off to have to make immediate purchases. That will change in time.
CNN's report also insinuated that typically under Republican administrations that gun sales always decline. There was no definitive proof to be found that this was a credible statement. Gun sales are more likely to fluctuate as the economy goes up and down as consumers have discretionary funds to buy more firearms, ammo, and accessories.
Under Obama's eight years and then the election promise commentaries that Clinton made for stricter gun control laws (including talk about confiscations), naturally gun buyers stayed in a panic mode regardless of their personal money situations. They bought guns and ammo like it was going out of style. Then the election changed that landscape.
The firearms industry though has never missed a beat. All one had to do was follow news from the NSSF and the SHOT Show announcements coming out of that show last January to know the market is as hot as ever. Frankly this gun writer has never seen so many new and exciting gun models, ammo, and shooting accessories come out in one year.
The manufacturers of these products are in the business of assessing the firearms marketplace. They would not leverage such investments in new offerings if they were not confident in the market. I think we will see an increase in all aspects of shooting sales as the economy improves under Trump.