I am generally not a fan of Browning's knife offerings. That said, they have over the last two years really stepped up their game, offering interesting designs with higher end materials. A lot of these designs are pretty traditional, with a lot of hunting-related blades, an unsurprising fact given Browning's heritage as a firearms manufacturer. Lots of stag and lots of drop point hunters, you know?
But Browning has expanded from the traditional niche of hunting knives to a full range of tactical blades, everyday carry knives, and fixed blades over the last two or three years. When the expansion started, there were tons and tons of Cr steel blades, dipping way down the scale into things like 5Cr. 8Cr, it seemed, was Browning's best steel. But now they have Damascus blades, 154CM, lots and lots of 440 series steels (please, Browning, tell us which version–440A ain't so hot, but 440C is definitely acceptable).
We have seen this progression before. Lots of companies start out with a bunch of knives with cheaper steel and add higher quality materials as they expand. It make sense from a business perspective. Why bother with M390 if you're not 100% committed to making a go at it as a knife manufacturer? Starting out with Cr steels seems much safer and cheaper.
But the next turn (one that CRKT started a few years ago), involves upgrading to really innovative designs. CRKT hired Ken Onion and others to make their turn. Browning seems to be aiming at something similar. The Browning Even Money instantly caught my eye as the only currently in-production Barry Wood-style folder on the market.
Barry Wood was a knife designer in the mid to late 20th century. He made a huge variety of knives, but the one that I have been especially interested in is his split handle design. This knife opens like no other folder. The handle separates into two halves, and the blade is in the middle.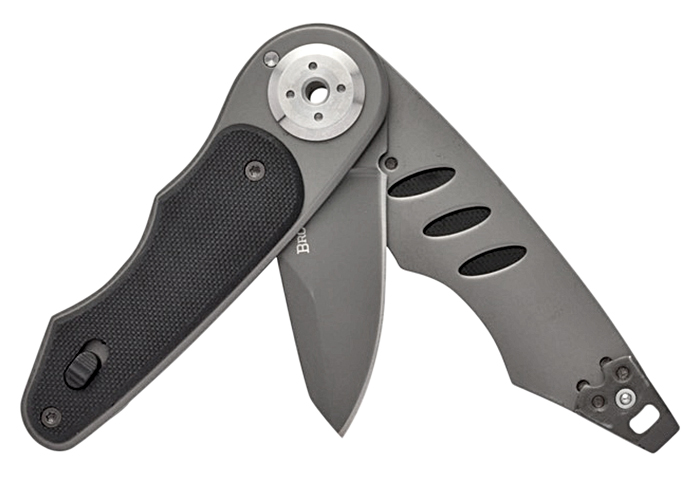 SHOP NOW
As you rotate one half it catches the blade and pulls it into the open position halfway through the rotation. Once the handle comes back in to the original position, it locks into place and locks the blade open. You reverse the process to close the blade. Some Barry Wood fans can do this process with one hand, but it is not possible for a beginner. Unfortunately the 80s and 90s production version are hard to find and good examples of Wood customs are exceptionally expensive.
There have been similar designs. 888 brand made some about 6 years ago, but the Browning Even Money is a full on Wood design. It comes in three different blade shapes: dagger, tanto, and drop point. All of them operate like real Wood designs (which had a detent mechanism), and unlike many of the originals, it has a lock to hold the handle in position once the blade rotates out. The Even Money is a small blade and it runs 5Cr, but it is a sign that Browning is starting to embrace unique designs. This, combined with their focus on nicer materials means that we might have another major brand to tempt us with new knives to buy. I'd love to see an Even Money with premium materials. Maybe it would be the "High Roller" instead of the Even Money.