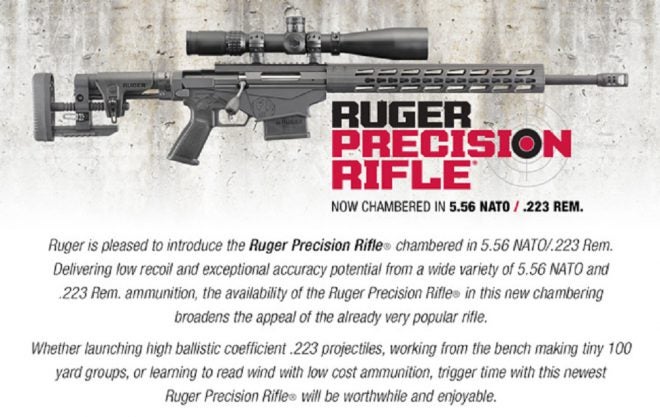 Holy smokes and welcome aboard the Ruger Precision Rifle line up, which now adds the 5.56 NATO/.223 Remington. This comes on top of the already sweet 6.5 Creedmoor and the .308 Winchester to this tack driving specialty bolt action rifle.
The Ruger Precision Rifle took the target shooting ranges by storm a couple years ago by introducing a radical new rifle platform. This bolt action super shooter includes an amazing rear stock unit that is completely adjustable for length of pull and comb height with a simple unlatching of the lock down toggles to make the adjustments.
Confirmation wise, the Precision Rifle uses an AR-15 type looking action but converted to manual bolt action. The grip remains similar and the rifle is magazine fed in a conventional AR fashion. Originally chambered in the two cartridges mentioned above, the RPR rifle not only found favor at long distance shooting matches, but it also found its way into the hunting scene as well.
With the addition of the 5.56/.223, this rifle will further interest shooters seeking extreme accuracy but in a less recoiling rifle platform. The new hybrid target chamber safely accommodates the 5.56 ammo as well as the near similar .223 Remington for the precision shooting of both.
Akin to the previous RPR rifles, this new version sports Ruger has a highly accurate, free floated barrel with a 1:7 twist. The rifle comes with two 10-round AI-style precision rifle magazines that can hold either 5.56 or .223 ammunition.
Also unique to the rifle stock design is the fact that with the push of a button, the butt stock folds down to the left for easier toting and handling. The Precision Rifle handguard can be customized with AR aftermarket accessories as desired. The muzzle comes equipped with a Ruger Precision Rifle Hybrid Muzzle Brake, a 20 MOA scope base, and the Ruger Marksman adjustable trigger, which can be set between 2.25 and 5 pounds.
Factory specs include 20-inch barrel, weight 9.8 pounds, overall length is 39.25 inches, length of pull is 12 to 15.5 inches, and folded length is 31.60 inches. A three lug bolt with 70 degree throw features dual cocking cams and a full diameter bolt body with an oversized bolt handle. Stock includes QD sling attachment points, a bottom Picatinny rail, and a soft rubber buttpad.
This new chambering offers another dimension to the already popular Ruger Precision Rifle. The suggested retail price is set at $1599.00. Visit www.ruger.com for more details.