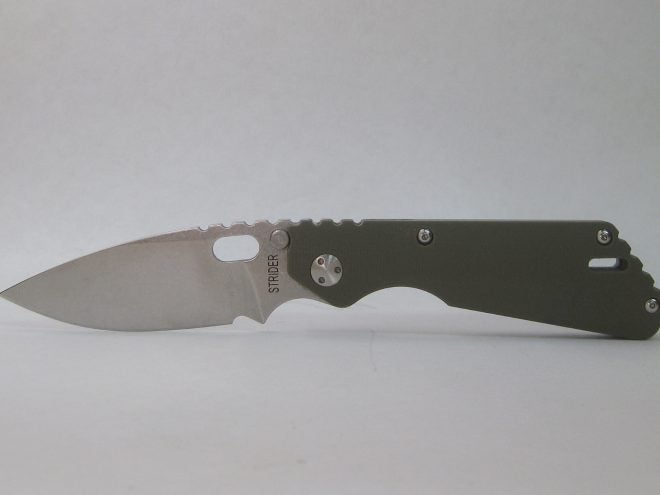 This morning over Instagram, Mick Strider, head of the eponymous Strider Knives, announced that his company was closing. Given the timing of the announcement, March 31, I hope this is a cruel joke, but all indications are that this is legitimate. If it is true, it marks the end of an era. Strider Knives changed the landscape of the knife world in a major way, and seeing them close their doors after 25 years is pretty sad thing. And for all of you collectors, it's time to rustle up as many SnGs and PTs as you can. They are sure to appreciate in value.
For a long time, the high end of the production knife world was two brands: Chris Reeve and Strider. If you were a practical sort, it was Sebenza. If you were a tactical sort, it was a SnG. Fans argued back and forth over fora for years. One side decried the other as making sloppy blades. The other retorted that their knives were workhorses not showpieces. In the end, Strider (and Emerson) opened the door for expensive, tactical production knives, a segment of the market that is just enormous now. Before Strider, it was Spyderco, Benchmade, and Chris Reeve. Practical folders were the norm. Now, 25 years later, everyone makes a hard use, tactical folder.
Strider was a company made by two men–Mick Strider and Duane Dwyer–with the support of a lot of other folks. Mick has stirred up controversy over the years, but no one doubts his skill at the grinder.  His complex, multifaceted grinds made collectors smitten. His and Duane's wild blade shapes were eye catching. He collaborated with a lot of companies over the years from Buck to Protech and many others in between. Each time, he produced a knife that was capable of taking a beating. The basics were the same–a sturdy titanium frame lock and a G10 show side scale.
In the end, it was the basic shape of his three classics (in order from small to large), the PT, the SnG, and the SMF. With its drop point blade and wide tail flair, the knife had an unmistakable silhouette. The half and half finger choil was a thing of wonder, giving you an amazing amount of control over the blade. The grinds on the production stuff were a bit thick behind the edge for slicing, but if you needed something sturdy and stable, they were your deal.
I owned a Strider PT CC and it was a fabulous knife. I wanted a pocket clip for it, as it came without one, but could never figure out how to make it or get it made. In the end, Mick released a like of midtechs, and those PT CC's included a pocket clip. The announcement indicated that the last Striders will be sold at Blade Show this year. It also indicated that Mick and Duane will continue to produce custom knives. It also indicated that the collaboration with Protech will be on-going. They just released PT autos.
It's a sad day in the Knife World. A major player is hangin' 'em up. Hopefully Mick, Duane, and all the folks over at Strider will pass through this door into another one and make just as big an impact there. Sometimes, even in a Golden Age of Gear like this one, it's time to move on.