April is "Get (Back) Out There!" month on AllOutdoor.com. Winter's over, spring has sprung, and it's time to gear up and to back outside. All month long we'll be sharing our outdoors adventures with you, so follow along on the #GetBackOutThere tag.
Wild turkey hunters everywhere are gearing up or already are chasing wild toms. And while this space could be devoted to highlighting possible hot gobbler spots, or tips on calling, shotguns, chokes and shotshell loads, sometimes it's good to reminisce past turkey seasons and events that take on much bigger significance over time.
That not-long-ago spring gobbler season had been a banner one, as I'd taken a number of good birds in several states. But this was the last slated hunt on home turf. I'd heard and seen several birds, but no mature toms worked into range that morning. A little sad the season was ending, but satisfied in my success, I drove around hunt property collecting blinds I'd used over the weeks to hunt big birds.
My son Matt was getting married that Saturday, and on that Wednesday at noon it was time to get back to important family matters.
It was a destination wedding at a resort an hour drive from home. We were slated to leave for the resort mid-day Thursday, with friends and family coming for the rehearsal shindig on Friday. The big event was Saturday.
I pulled several blinds down at choice turkey spot and was driving a remote woods lane to a last special place on the edge of a mature pine thicket. It was a blind I'd taken several toms from over the years, and I worked a couple birds there without result that spring. About 100 yards from the blind three turkeys suddenly popped up, and ran down the lane directly in front of me. The birds were sprinting, going straight away. I couldn't see heads well, nor beards. But there was one bird nearly a foot taller than the other two.
Gobbler, no doubt, I thought as the birds disappeared around a bend in the lane.
Hmmmmm, I mused.
I could be back to the spot before that next daybreak, hunt 'til mid-morning, pull down the blind, load the SUV, and be home in time to leave with my wife, Chris, for the wedding. This way I'd have a great chance to tag that tom, and not ruffle any family feathers.
She would understand since she'd lived with my outdoor craziness for over 40 years.
That was the plan. So I left the blind standing intending to return the following morning.
But on this particular occasion, my always-understanding bride was unmoved when I ran the turkey plan by her.
"Your son is getting M-A-R-R-I-E-D," she said sternly, eyes flashing German-Irish heritage and penetrating my gaze directly. "I can't believe you'd even consider hunting turkeys on the day we're due to be with him in preparation for marriage."
I assured her I'd not be late, and there was no chance we'd miss anything. Besides, I stammered proudly, Matt's a turkey hunter, he'd understand.
She didn't say a word, just turned and walked briskly away.
I folded like an old tent in a gale, knowing in my heart she was right.
But the gobbler was there, and the blind was perfect. So I called my old turkey hunting buddy Mike and explained everything to him.
He knew the area. I described the spot, and how to locate the blind in the dark. He and his wife were going to the wedding, too, but they didn't have to be there until Saturday. That gave him a couple mornings to try the tom.
The next morning, Thursday, dawned cool and bright, no wind, perfect for turkeys, and I hoped Mike was at my blind.
By 10 a.m., we were packed and headed to the wedding resort. All was right with the world, and with my son, wife, bride-to-be, family, and, hopefully my friend in the turkey woods.
I was cruising along the expressway when my cell phone received a text message from Mike, which I read, then passed over to Chris sitting beside me.
It read:
"Bird gobbled on roost 7:15 a.m. I yelped. He flew down, gobbled, strutted in. Shot him 25 yards at 8:02 a.m. 10-inch beard, nice spurs. Thanks buddy. See you Saturday."
She read the text, smiled at me, as I bit my lip, strangling the steering wheel tightly with both hands.
I said nothing for a long time, and got more hunt details from Mike that Saturday at the wedding reception. It was a good story, that drew lots of guffaws and teasing from buddies.
But that summer Mike was laid low with a bad lung and needed a transplant. For three months he was in the hospital, and even after the transplant there were months of complications. It was touch-and-go for him until autumn.
Finally the doctors said he was cured, but his immune system was such that anything possibly causing infection could be deadly. So hunting and fishing were out for him, forever. It was too much of a chance for bacteria, which could be fatal.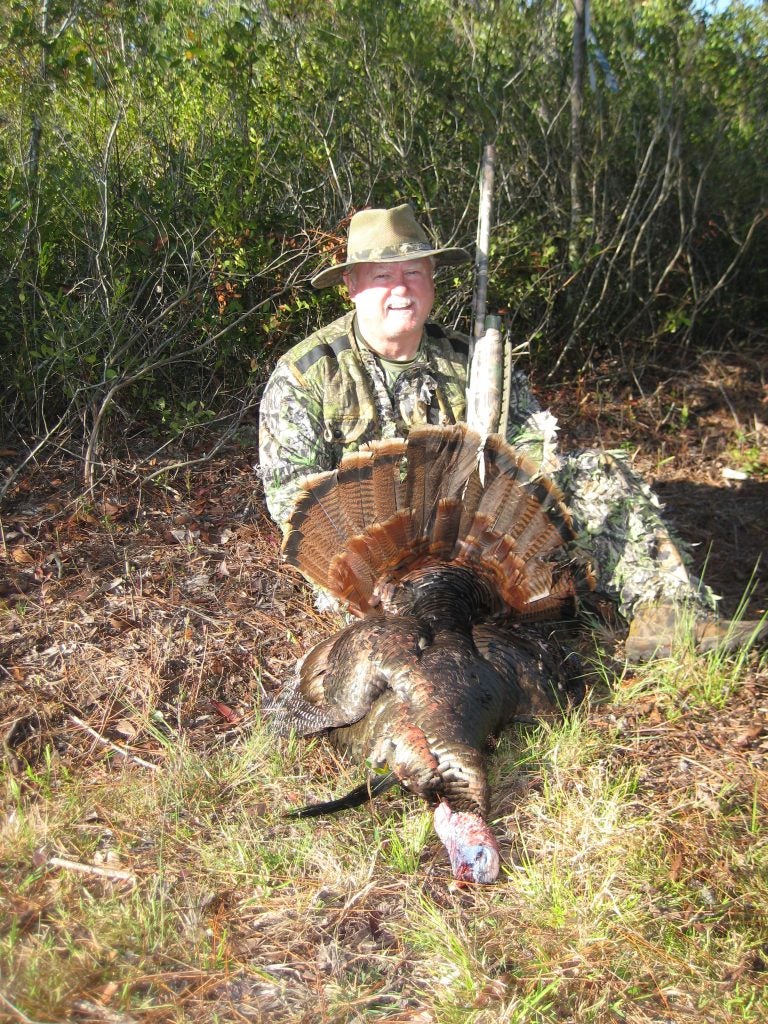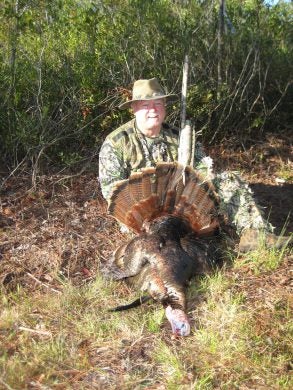 That was a cruel sentence for a man who spent all his spare time hunting, much of it with me for turkeys.
But it gave me solace that a power far greater than any had a hand in that wedding-week gobbler being passed along to my close friend.
Sometimes fate guides an outcome to a greater good that at the time no one can envision.
That bird was Mike's last tom.