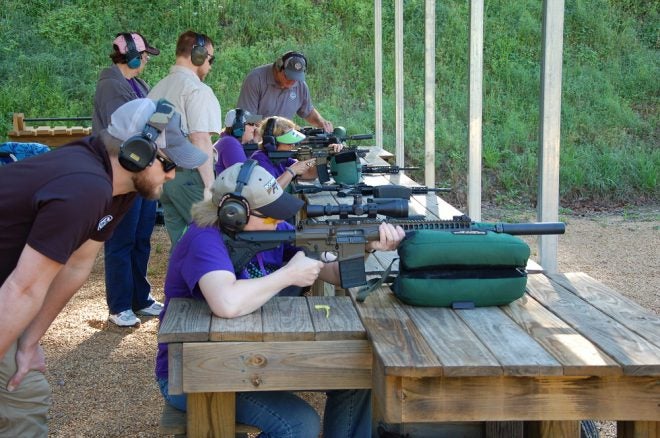 A state-of-the-art firearms training academy shooting range in Mississippi hosted 70+ women over the weekend at a regional TWAW gathering. These women were not simply sitting on the sidelines either. They were actively stepping up to the firing line. Plenty of ammo was burned.
Boondocks FTA in Raymond, Mississippi owned and operated by Dr. Mark and Kim Condon served as pro-active hosts to these women shooters. Known as the 2017 Mid-South Purple Pow Wow, the annual event brings women together to further their shooting skills and to learn new ones. Training options began on Wednesday, including the Point Blank Active Shooter Training on site. A full agenda lasted through the farewell brunch on Sunday morning held at the Eagle Ridge Conference Center at Hinds Community College just down the highway from the range.
Kim Condon is an active leader in the local chapter of The Well Armed Woman or TWAW. "We want to foster first class training and firearms orientation for women wanting to learn how to defend themselves and become effective self-defense shooters," says Condon, who is a very active shooter in her own rights, as is her physician husband, Mark.
Activities during the three-day event included a welcome presentation by Liz Lazarus, author of Free of Malice. Before exiting the conference center to head to the range, there was a full safety briefing by the Boondocks staff. Safety is primary at Boondocks and range personnel were present at all shooting events to monitor all safety including "eyes and ears."


Range events included five stations at Snake Creek Range, Champion Hill Range, Robinson Range, the Shoot House, and the Simulator Suite. The ladies were divided into five groups that rotated from one station range to the next.
The actual range presentations included shooting AR rifles supplied and coached by LWRCI rifles staff. They brought ARs in 5.56, 6.8SPCII, and .308 Winchester. They also had on display their new TWAW special edition AR rifle. Glock sent two instructors with multiple examples of Glock pistols to shoot, including one suppressed pistol. Orientation was presented about the history of Glock and how the pistols functioned. Every lady shot both the ARs and the Glock pistols.
Dr. Mark Condon presented medical training on trauma issues especially bleeding control. The Simulator Suite was an enclosed darkened range using high tech interactive video of live action threats and electronic handguns. The Shoot House training provided the TWAW members a chance to "defuse" an active threat inside an enclosed building.
Find more information on TWAW events and membership by Googling TWAW. Boondocks information can be found at their Facebook page. Check these out for future training and events.