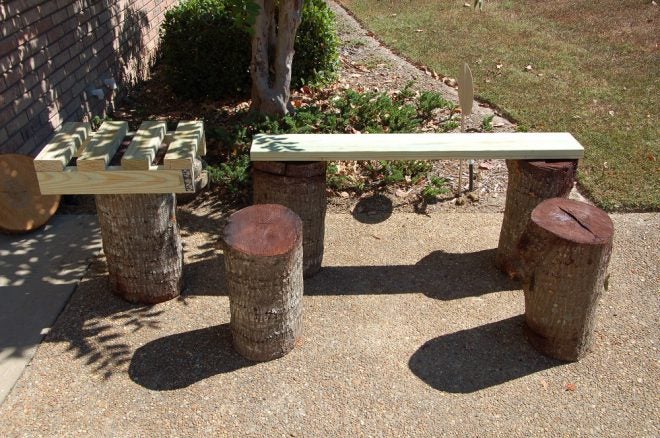 Sometimes a project just falls into your lap unexpectedly. A neighbor across the street (admittedly much to my chagrin) decided to cut down all the trees in his back yard including a big oak tree. I call it the destruction of urban habitats I have discussed elsewhere.
Anyway as I watched the crews taking down some pine trees, a lightbulb came on. Where were the logs going? Sadly I was told the logs would be hauled to a landfill and not used for paper pulpwood or even turned into quality firewood to keep somebody warm. So, I asked the loggers if I could have four or five of the oak log pieces. They agreed.
As the 10 foot sections of the oak were brought out to the street to be loaded on a dump truck, I was able to glean one nice log. One of the handlers was happy to chainsaw my pieces into 18-20 inch pieces and one about 30 inches. My quickly devised plan was to turn the shorter pieces into two fire pit benches for our bug out camp. The taller piece would be turned into a makeshift table. I mean we can't have the wine bottles sitting on the ground.
First I let the log pieces dry for a week. Then I rummaged around to find a can of brown spray paint. I put two coats on the ends of all the pieces to help seal them from moisture hoping they would last longer once in the camp yard. At the lumber supply store I bought one treated 8 foot by 10 inch board and had them cut it in half for the bench seats. I bought another 2×4, 8 foot long to fashion a table top for the other log section.
Carpentry is a skill set I am growing. With galvanized nails I laid out the benches trying to turn them over and over to find the flattest, best fit. I'll nail down the 4-foot seat sections when at camp. The table top was designed where it would just fit over the top of the taller log piece. It fits tight, but could also be nailed down to add stability. Don't want any spilled wine, do we? It all turned out well and looks great.
Okay, so this was a no brainer simple project. True that, but one that should offer some utility for places to sit around the bug out campfire. That's cool.