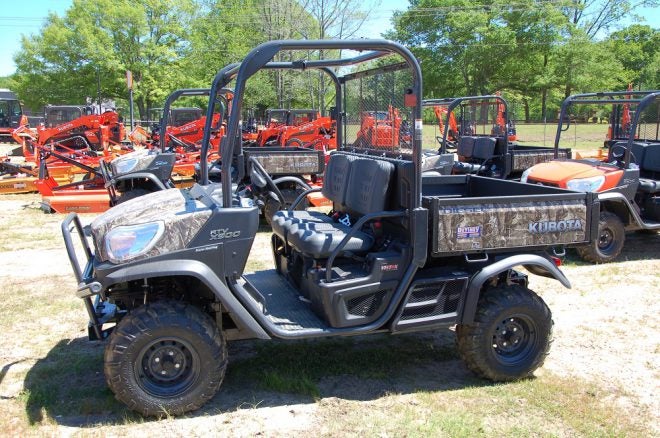 The Kubota Tractor Corporation makes a variety of models of UTV type vehicles. As noted by their own Regional Sales Manager, Kelly Wilder, these machines have been manufactured to primarily target the farming, ranching, and construction industries. Use of their vehicles for recreational pursuits was just rather incidental, but to be expected for sure.
As you thumb through their current catalogs of their RTV product line, you don't see obvious photos of recreational use scenes and only a couple of guys wearing camouflage to insinuate the outdoor pursuits of hunting. But that is going to change.
"While Kubota certainly recognizes that owners of our RTV vehicles are going to be using them for a wide variety of outdoor activities of all kinds, we just have not purposefully targeted that audience directly. That is about to change with a new factory being built in Georgia to manufacture new models specifically designed for the world of outdoor recreation", says Wilder.
To be fair, some models of Kubota RTVs are trimmed out in camouflage, so they are great for use out in the woods and trails especially in camps for hunting and fishing. Here in the South in particular that is an important marketing element. Anything in camouflage sells. Also, the primary signature Kubota color is orange, so that also fits into the outdoor hunting image.
Currently Kubota makes several RTV models with gas engines or diesel. Drive systems are 4WD or with a 2WD selection. Engine sizes vary in CC displacements depending on the model. All the specifications of all the models can be examined on their web site at www.kubota.com. There are too many models and features to detail here. A visit to a local dealer is a best bet.
The RTV units are really more like small, tough mini-trucks than conventional UTVs. They were after all built for heavy duty work in rough environments. There are two-seat and four-seat versions, open cabs, or completely enclosed cabs. They are built for durability, safety, hauling, pulling, and rough use.
Components include options for canopies, windshields, doors, rear panels, and heavy duty springs or struts. Custom touches include internal or external mirrors, dome lights, wiper kits, and work lights. Kubota offers many accessories and attachments for various job tasks. New models will be even more focused on outdoor recreation.
Incidentally, in my area, the Kubota dealer is the oldest one in the nation, Deviney Equipment in Madison and Clinton, Mississippi. To say the least, visiting there is like going to Big Orange Country. Kubota dealers are also known for their service and parts to back up unit sales.