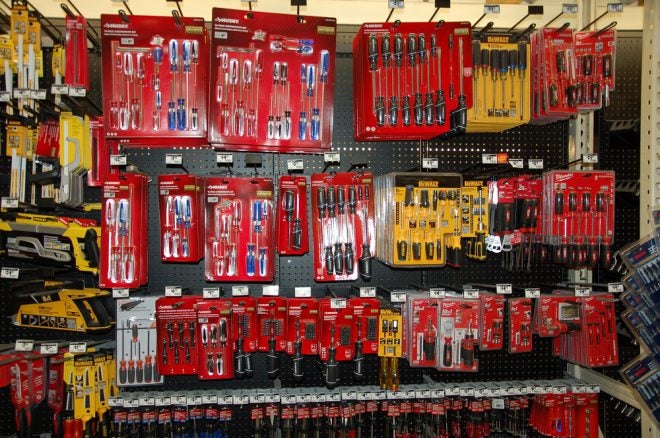 Perhaps the most basic tool in the world besides a good hammer is a screwdriver. These are one of the most universal types of tools that a person can use for many multiple applications. Of course, many things are assembled, built, and held together with all kinds of screws, so it takes the right driver to install screws or remove them.
Basically there are two types of plain screwdrivers based on screw head types. These come in flat head and Phillips head, which is a sort of cross shaped head. You'll know right away which type to use for what when you look at the screw to be worked on. If it has a single slot, then use a flat head. If it has a cross shaped screw head, then it takes the Phillips type.
The key to effectively using a screwdriver is to make certain the driver head fits the screw head. Otherwise you can easy twist out the shape on the screw head, ruining it. Yeah, guys, I hear you laughing now, but you have to realize that a lot of people, a lot, have no idea how such basic tools are used and for what. The current generation of young people actually believes that everything plugs into something.
As with all tools, screwdrivers come in all kinds, types, sizes, and brands. Again, quality prevails.
Buy a base set available at any hardware store, home improvement center, or like places. A basic set will have all the usual sizes and shaft lengths. Get a large enough set to cover a full size range of both types of screwdriver heads. Try the handle materials to check the grip. Some are available with rubber covered or dipped handles for better gripping power.
Certainly you might want to add some specialty screwdrivers after you try to tackle particular jobs and need a unique tool. It may require a longer, thinner shaft to reach something difficult to get to. There are big screwdrivers that can be used for light prying or holding parts in place or helping to loosen things up. Generally though, screwdrivers are not intended to be used as crowbars.
Ironically, even though screwdrivers are so commonly used, they can also be dangerous. Screwdrivers seem to have a tendency to slip and then gouge the hands. So, be careful in their use. Screwdrivers are a most basic tool, so assemble a set or several.